Jennifer MacKenzie is an agricultural photo journalist with almost 30 year's experience. Operating from her base in Cumbria, Jennifer undertakes mainly industry-related freelance writing and photography.
Cutting the costs of wintering cows
Cutting the costs of wintering cows is the option Drew Bell has chosen to make money on his 80-cow suckler beef enterprise on 300 acres at Guyzance, near Acklington.
Drew Bell's family first took on the tenancy of Hazon House Farm in 1941 and it came into family ownership in the 1950s.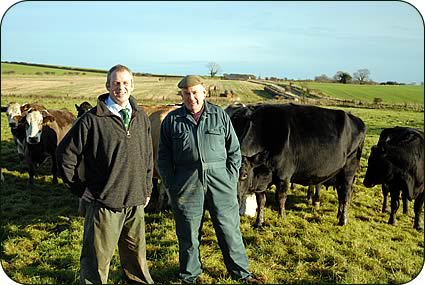 Richard, left, and Drew Bell with suckler cows at Hazon House.
Now he farms the unit with his wife Mary and help from the family only at weekends – son Richard is a beef and sheep consultant for Promar International, daughter Mary is a consultant midwife and younger son Charlie is a civil engineer.
"This farm doesn't generate two wages so we made sure our family had a good education. Now, with the Single Farm Payment, it's about looking at costs again and we are reducing the length of time our cattle are housed as well as block-calving the cows," said Drew Bell.
"There's nothing new in what we're doing. I built my first shed 36 years ago now we're having to outwinter stock again," he added.
New costings data published by the English Beef and Lamb Executive (EBLEX) last month (November) revealed the true cost of producing beef cattle on English farms - that average beef producers are making a loss of between £74.37 and £425.39 per head.
This 2005/2006 farm costings data contained in the latest edition of EBLEX Business Pointers does not include the Single Farm Payment, and also incorporates a number of non-cash costs, including family labour and rent.
At Hazon House, 90 acres is down to permanent pasture with 58 acres of ley grass, kale is grown on 32 acres with a further 81 down to cereals, the remainder being set-aside, rough grazing and trees and yards.
Daily labour is largely down to Drew Bell during the week and contractors are used for establishment, harvesting and baling work on the arable land, silaging, mowing and baling on the grassland and a spreader is hired for manure.
"The Single Farm Payment and Entry Level Stewardship payment will cover the farm's overheads at present," said Richard Bell.
"However, overheads will increase with inflation and the SFP is not index-linked. We still need to farm to live," he added.
Wheat grown at Hazon producing three tonnes to the acre at a value of £70 a tonne leaves a gross margin of £113 an acre once variable costs are deducted. But when direct costs such as for contracting work, drying and storage are taken into account, the net margin is only £5 an acre.
To make a reasonable margin Richard Bell argues that a three tonnes to the acre yield needs to average a value of £95 a tonne to break even.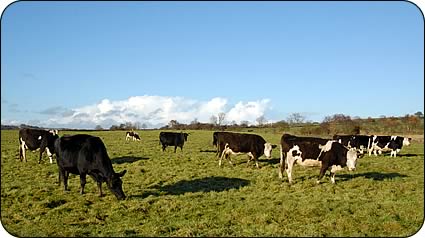 Suckler cows at Hazon House
The Bells see the enterprise at Hazon centering around the suckler cow herd but with dramatically reduced costs by shortening the housing period by 60 per cent.
Conventional cattle wintering costs amount to £245 a cow consuming an average eight tones of silage.
When the real cost of silage is taken into account to include fertilizer, spreading, contracting work and the grazing rental equivalent plus wastage it adds up to £17 a tonne and amounting to the largest part of the overwintering cost.
Shortening the housing period by 60 per cent makes immediate cost savings of £147 a cow. Added to that is £30 a head extra costs for outwintering the cows on kale and straw – still saving £117 a head.
"Cattle have increased in value by about £80 a cow further improving the margin to £197 a cow," said Richard Bell.
Cow numbers at Hazon are currently running at 80 head although expansion of the herd is ongoing to dilute the true fixed costs.
Tighter stocking rates result in better grass use. With less silage ground required, the grazing area increases either enabling more cows to be kept or inputs to be reduced, said Richard Bell.
"When block calving and outwintering, the best grass goes into the cows and calves when they need it – to produce milk and at serving time.
"The routine is much shorter – 100 cows can be fed in an hour – and the focus is on cow performance, not silage making or leading straw and muck.
"Machinery use is also reduced meaning it should last longer."
Young cattle are wintered away from Hazon minimising the need to invest in buildings compared with a much cheaper cost of renting sheds.
For the future Drew Bell will place emphasis on finding the right type of cow and strive to achieve higher average weaning weights all with the aim of holding onto beef price increases.