Jennifer MacKenzie is an agricultural photo journalist with almost 30 year's experience. Operating from her base in Cumbria, Jennifer undertakes mainly industry-related freelance writing and photography.
Suffolk Passion
A passion for Suffolk sheep and the social enjoyment pedigree sheep breeding brings has paid off for mother and daughter Glynis and Jane Soulsby after their flock was judged the top in the whole of the north of England.
The Williamsgill Suffolk prefix has existed since 1990 when the flock was first established at Williamsgill, Temple Sowerby, near Penrith.
The original flock was beginning to see the fruits of a decade of selective breeding when it was taken in the government's depopulation cull during 2001's foot and mouth epidemic.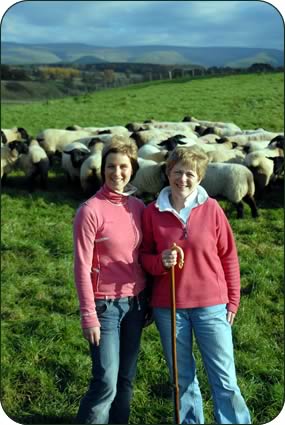 Jane and Glynis Soulsby
Jane, aged 24, has a passion for sheep which are involved in her work as a technical sales consultant specialising in animal breeding and genetics with national company Inovis based in Edinburgh.
And it was Jane, an honours graduate in animal science from Newcastle University, who persuaded her mum to re-start the flock the following year.
Now having it selected the top flock in the northern counties branch of the Suffolk Flock Book Society annual contest against opposition from as far afield as Lincolnshire and up to the Scottish Border is the icing on the cake for the pair.
Said Jane: "I gave mum an ultimatum – we have to get some more sheep or you have to find something else to do as she was getting boring!"
Glynis admits: "Through breeding and showing the sheep we had met such a lot of people up and down the country and it had become part of our social calendar."
Originally the flock was set up through interest from the Soulsby's son, Thomas, who when he left school took on the job of milking the cows. Thomas and Jane's elder brother, Peter, also works on the family farm.
The flock was re-established in June 2002 with 24 gimmer shearlings with top bloodlines from Robbie Wilson's Strathisla flock in Aberdeenshire, although Glynis had planned to re-stock with around half that number.
That year the Strathisla flock went on to win the national Suffolk flock competition and achieved high averages at the Carlisle sale.
It was Jane who suggested they should enter the flock competition last year when they were chosen as reserve top flock and their tup Williamsgill Wkd was judged the best stock ram. He made the flock's top price to date of 1,000gns
This year judge Helen Goldie who runs the Harpercroft flock at Dundonald, Kilmarnock, placed Williamsgill top of the flocks from around a dozen entries when she visited in mid-October.
"We knew our female gimmers were looking really well and through our breeding programme principally using AI we have bred a more uniform flock," said Jane.
This year's females by AI sire Deveronside The Messiah and stock ram Strathisla Red Bull, bought at the 2005 Edinburgh sale, also earned the flock the award for best ewe lambs.
Glynis said: "With the type of Suffolk we have tried to breed we have kept the carcase characteristics without breeding for extra bone and head size which also helps with lambing ease. We have also kept the breed's colours and good, silky skins on the ewes which is what the commercial breeder wants.
"It is the commercial breeder we are aiming at – they put the money in our pockets – but we would always want to breed something special.
"We have stuck with the Suffolk while some other terminal sires have become popular but I think there is increasing interest again in the breed which achieves a faster liveweight gain – something which proved an advantage during this summer's lack of rain and poor grass growing season."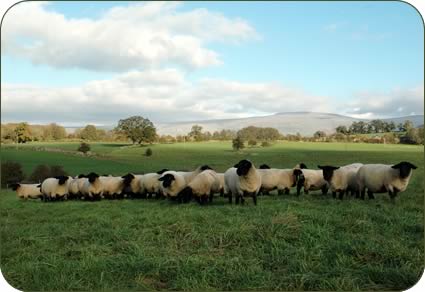 Williamsgill Flock
While Jane's job takes her all over the country and has meant her travelling as far as New Zealand, she always tries to be at shows and sales with her mum to help promote the investment in time and money they have made in the new flock.
She has also used her expertise when the ewes are AId in early August for lambing at the beginning of the following January when she also tries to be at home.
The whole flock is served by AI and the stock ram sweeps up any which have not held to service.
Glynis said: "It's expensive but it does help batch the sheep both for lambing time and for feeding and marketing. It also means I have a break from getting up through the night to check on the ewes!
"Up to 30 which have held to the AI will lamb over six days then there is a gap before the next cycle of 17 days which allows me to re-charge my batteries.
"Taylor looks at the sheep before bed at midnight and I get up to see to them t around 2.30am. I only bother Taylor if I have a difficult lambing but we get very few. Handling an in-lamb ewe - which can weigh 100kg or more - is a skill in itself. Like everyone who breeds pedigree livestock, we give it 110 per cent."
The Soulsbys also place great faith in the partners at Penrith's Rowcliffe House Partnership.
In-lamb ewes are only fed a high energy bucket by Harbro plus a small amount of hard feed closer to lambing time. Afterwards they are fed Taylor's secret home mix which contains barley grown at Williamsgill as well as oats.
This also introduces the lambs to some hard feed before they get creep around three weeks after birth.
Most of the females are now home-bred with three of the original ewes remaining. All progeny are sold for breeding with fewer females kept as replacements next year as the flock is now at its optimum size. They are sold through sales at Shrewsbury, Skipton and Carlisle.
Rams are generally sold at lambs although this year three have been retained to be sold next year. They are by the flock's former stock ram Williamsgill Rio Grande by Fordafourie Rio, which the Soulsbys have retained semen from.