Jennifer MacKenzie is an agricultural photo journalist with almost 30 year's experience. Operating from her base in Cumbria, Jennifer undertakes mainly industry-related freelance writing and photography.
XL Vets
The challenges faced by UK livestock farmers in the 21st century led to the formation of a new company in June 2005 – XLVets – thought to be unique worldwide in its mandate to get its countrywide group of farm animal committed veterinary practices working together alongside commercial research and manufacturing companies to share best practice.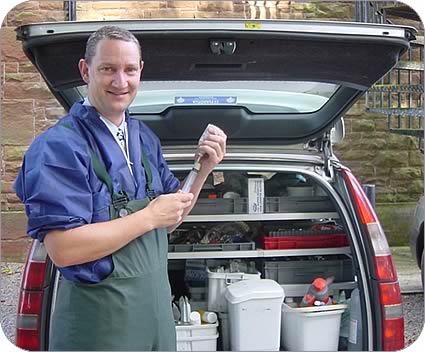 David Black
Vets have talked for years about working together and sharing ideas and skills – a route which XLVets' managing director David Black had always wanted to pursue.
However, the catalyst came after the publication of the Department of Trade and Industry consultation and the Competition Commission's report prescription-only veterinary medicines.
"Agriculture in the UK is under the hammer and this is about standing up and being counted," said David Black, who is also managing director of the Paragon Group of veterinary centres based at Dalston, near Carlisle, in Cumbria.
"We're trying to change the way the farmer sees us. We want to offer best knowledge to our farmers, share skills and be the focus for the whole health package as a partner. It's a question of investing in health not paying for disease.
"It's obviously in our best interests because I want to be doing farm work for the next 20 years and I won't be if there are no farmers left."
The new umbrella company comprises a core group of up to 30 practices, ranging in size and varying from two farm vets to the biggest with 42 vets of mixed disciplines. Each practice is a shareholder of the private limited company, based in Scotland, run by a board of eight, and each vet practice pays a subscription.
The initiative is about trying to help farmers in a cost effective way by offering preventative knowledge and "best practice" information as well as supplying medicines at competitive prices because of the new company's coordinated buying component.
"We have achieved new economies by getting together. By working with other practices we can be more open and honest and share skills. It's something farmers should do instead of feeling they are competing with each other," said David Black, whose practice has 22 vets.
"Farmers see us as being experts in disease rather than being experts in animal health. We would much rather supply a preventative vaccine for £2 than a tray of antibiotics. There is still a lot of slack in the system in farming and a lot of margin for improving efficiency."
XLVets has already greatly increased sales among its practices of preventative medicines, resulting, hopefully, in a reduction of antibiotics and other "fire-brigade" medicines supplied.
Through the expertise of a Northumberland member of the group who deals with a large number of sheep farming clients, better marketing of ewe abortion vaccine has led to a sales growth of 33 per cent among the practices – benefiting both the farmer and the sheep.
Similarly, 40 per cent more calf pneumonia vaccine has been sold through member practices. Other animal health campaigns are planned to give a widespread impact on disease messages
Historically, the profession has subsidised its fees by the sale of medicines, says David Black, but members of the group are now able to charge a realistic fee for their consultancy and advice as well as supplying the medicines as cost effectively as possible.
While the farmer's vet bill might not reduce, his efficiency and hence profitability will inevitablyincrease.
XLVets wants to create a national footprint although optimum membership is probably around 40 practices.
Already its practices are as far-flung as Lanark in the Scottish Borders to Crewkerne in England's south west and they include some of the key veterinary businesses in the UK.
"It's about attitude and forward thinking. All of our practices are committed to British agriculture and the future of UK farming," said David Black.
While agriculture is the first model, equine vets impressed with the operation of the new company are already hoping it can be rolled out to their own specialism.