Jennifer MacKenzie is an agricultural photo journalist with almost 30 year's experience. Operating from her base in Cumbria, Jennifer undertakes mainly industry-related freelance writing and photography.
From farm gate to restaurant
A unique on-farm event in South Cumbria connecting the food chain between farm gate and the restaurant plate was attended by chefs from throughout the region on Tuesday (March 1).
The chefs, operating in the region's hotels, restaurants and other foodservice sectors were invited to Low Foulshaw Farm, Levens, near Kendal, to find out more about how the Geldard family has diversified their farm business with a farm shop, Lakeland Food Park and the Plumgarths ASDA local sourcing initiative.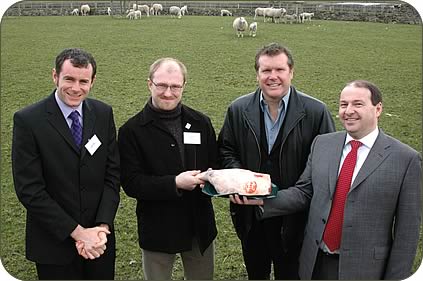 Left to right, farmer Richard Geldard, chefs Duncan Collinge and Nigel Haworth and Plumgarths director Steve Chambers with lamb produced at Low Foulshaw.
The chefs, including Michelin-starred Nigel Haworth, patron of Northcote Manor, near Blackburn, who endorsed his passion for 'local' in a presentation had the opportunity to tour the beef, sheep and free range poultry enterprises managed by the Geldard family, John and Rachel along with sons Richard and Charles, as well as sampling the locally produced food.
Duncan Collinge, head chef of the Lakeside Hotel, Newby Bridge on Windermere, which is within 20 miles from Low Foulshaw, has been sourcing his beef and lamb from Plumgarths for the last three years as its first customer now buying up to 60 fillet steaks a week alone.
"I have been involved with using local produce for a long time and I wanted to use meat that was produced locally.
"We find the quality is excellent and we have got a good working relationship with Plumgarths and the Geldards. They are always here to help.
"I think it is becoming more important to consumers that they know where their food has come from. They take great pleasure in asking us where the food has come from and it is also important to be supporting the local economy."
Mr Collinge had already introduced his chefs to the farming operation at Low Foulshaw. "It's important for me that they understand how much effort the farmer has put into rearing a quality product which in turn they will respect more.
Plumgarths is aware that it has made great strides over the last three years in helping to reconnect the food chain. The vision was borne by John Geldard who decided to further progress his farm diversification business when in 2002, he launched Plumgarths Foodservice to meet a growing demand for 'local' from the region's hotel and restaurant sector.
The business offers high quality branded beef and lamb naturally reared by the region's farmers and sourced from a local abattoir together with additional products required by the food service sector. Additional skills and resources were introduced with two fellow business directors, Steve Chambers and Paul Airey.
"This event, believed to be the first large scale communications exercise of its kind, was intended to introduce chefs to the food chain and to inform them of what really goes on on the farm - the extremely high levels of farm management and animal nutrition we implement to produce quality beef and lamb," said Mr Geldard.
"In addition, we want to reinforce how suppliers and customers are keen to learn from each other and that farmers are continually responding and delivering to meet discerning customer requirements."
The English Beef and Lamb Executive (EBLEX), one of the event sponsors, held a live demonstration of new cuts designed to improve menu appeal.
It also be explained the benefits for caterers of its Quality Standard Scheme for beef and lamb in advance of the high-profile consumer launch taking place early this month (March) through prime time television advertising.
EBLEX foodservice project manager, Hugh Judd said: "We're promoting the quality standard mark for English beef and lamb which the Geldards, along with hundreds of other producers, have already achieved.
"It's a fully-assured chain from the farm to the abattoirs and processors right through to the chefs and from a consumer point of view it gives consistency, quality, succulence and tenderness.
"This is the next step forward from farm assurance which gives full provenance and assures that the meat is processed humanely to the highest possible standards."
Mr Judd said consumer research had shown that the public wanted to know where their meat had come from and that it had been humanely produced and that local branding of dishes on restaurant menus was a big selling point.