Jennifer MacKenzie is an agricultural photo journalist with almost 30 year's experience. Operating from her base in Cumbria, Jennifer undertakes mainly industry-related freelance writing and photography.
Making organic ends meat
Steve Ramshaw of Northumbrian Quality Meats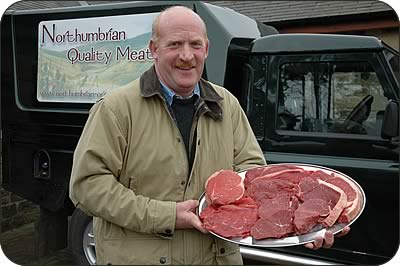 Steve Ramshaw took a decision which for many would not have been an option – exchange the opportunity of a good salaried professional job for the life of a beef and sheep farmer in the Otterburn hills of Northumberland.
However, for Newcastle-born Steve, there was one proviso. The traditional upland farm he and his wife Julie had established over more than a decade from scratch had to become sustainable and that was where the hard work began.
For seven years the couple have been building up their own meat retailing business, Northumbrian Quality Meats, from Monkridge Hill Farm 30 miles from Newcastle selling quality traditional Aberdeen Angus beef and Scotch Blackface lamb reared on an organic system.
Now the success of their business is leading them into a £240,000 investment – with the help of a 50 per cent Defra grant – to provide a new meat cutting plant, which will enable further expansion of the business as well as offering facilities for other organic producers in the area.
"It was in 1998 that I decided I couldn't have my wife who works full time in the city supporting the farm," said Steve, whose experience has been in construction management.
"I went for a job and I did very well at the interview but on my way home I thought 'I don't want this job – I don't want to sit in traffic jams and work in an office'. That's when I made my mind up to do something different with the farm," said Steve.
"However, I'm still making nowhere near the money I would have been if I had taken the job!" The meat business earnings have still enabled Steve to plough money back into the farm with conservation and wildlife programmes being a passion – something he would not have been able to do as a traditional hill farmer.
Steve in the chiller with lamb carcases bearing the Soil Association stamp and the business logo.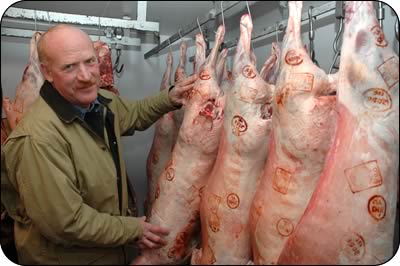 While the business has been successful, earning top awards the most recent being for the country's top beef and sheep farm in the producers' section of the Organic Food Awards, as well as top chefs and restaurants favouring their meats, Steve admits it has not been easy and warns other farmers of the hidden pitfalls.
One of the ongoing problems has been that the business has been operating directly from their home, meaning phone calls – and callers – at all hours of the night and day.
The new meat cutting plant, which is being sited up the lane from the Ramshaws' home, will include office facilities, staff rest and dressing rooms and an on site cooking area.
Steve and Julie began farming 20 years ago in the hills near West Woodburn, firstly buying a 90-acre smallholding and then taking the opportunity to add further land to increase it today's acreage of 750.
Monkridge Hill, which has 100 acres of mowable land, runs a flock of 400 pure Scotch Blackface ewes alongside 40 Aberdeen Angus suckler cows which are put back to the Angus bull.
All the cattle and sheep are finished off the farm along with other bought organic finished stock with a throughput of 100 to 150 cattle and 800 to 1,000 sheep for the meat retailing business.
However, before embarking on the retail meat business, Steve spent what he believes was critical time and money – with the help of a grant – to look into the possibilities of selling a high quality product that was different to what you could buy in the supermarket.
"Rather than blunder in and get a grant to set up a meat cutting plant, I got some support from my local authority to look into marketing the product. I also spent a fair bit of time working alongside Meat and Livestock Commission and private consultants looking at meat eating quality and presentation.
"I looked at and continue to study the dietary requirement of the animals and even to selecting bulls with good inter-muscular fat content to the point where currently I am considering buying a breed of bull which has its origin in Japan because of the marbling qualities of the meat they produce in their progeny.
"At the time the farm was about to go organic and I thought this would help marketing and the breeds of sheep and cattle we had already had the perception of being high quality," said Steve.
He has continued in his quest to produce quality right down to the maturation of the carcase. Beef carcases, after slaughter at Whitley Bay Meat Co, are hung for an average of 21 days depending on the fat cover.
Beef carcases are suspended by the ache bone, which also helps maturation, and the refrigeration in the new cutting plant will further aid the process with its precision temperature and humidity controls.
Steve advises any prospective farmer-meat retailer to do their homework – even to the point of detail of full utilisation of the carcase. While there is generally a queue for fillet steaks, other cuts of the carcase are potentially more difficult to sell.
However, the production of lean mince and lean diced meat has ensured the sales of forequarters at Monkridge Hill are a success.
Marketing and selling a quality product are only half the challenges facing small food retail businesses today, stresses Steve.
To satisfy Trading Standards rules meat products must come up to meat products specification and sausages for example are regularly checked for their visible lean content of meat.
Then there are the demands of product labelling and description, weights and measures, quantifiable ingredients.
Under meat hygiene regulations, products must have individual batch numbers, records kept of daily, weekly and monthly refrigeration temperatures, bacteriological swab testing of surfaces – and so the list goes on.
Further requirements need to be met both on the farm and during meat processing to comply with the Soil Association's organic standards and the beef-labelling scheme.
"There are lots of disadvantages with being organic and retailing meat from the farm but living where we do I considered a farm shop was out of the question and we are probably not in the best place for tourism – we didn't have many options," said Steve.
"This farm produces beef and sheep and it is probably not a finishing farm and we have had to work hard with the breeds and type of livestock. We have had to work hard at marketing the product," he added.
Thanks to the outlet through a limited number of farmers markets in the area which accounts for around a quarter of sales and through specialist food shops from the Scottish border to Darlington along with direct sales, Northumbrian Quality Meats has developed a solid customer base from celebrities, including chefs, to people all over the country who like quality food.
Contrary to the increasing popularity of the internet, Steve believes his business website's main function is mainly promotion and he regards the 10 per cent of sales gained through this avenue as a bonus.
As a director of Northumbria's Larder, set up post foot and mouth to promote local produce, Steve is adamant that tourism and food from the region should go hand in hand and that visitors should be served local food and be able to source it when they return home.
He is also keen to help other farmers add value to their businesses and the increased capacity of the new meat cutting plant at Monkridge Hill will provide a facility for other organic meat producers in the area.
Steve places great importance on building relationships both with his customers to meet their personal requirements as well as other people in the supply chain.
But one area where he feels there is little prospect of building on relationships with small businesses like his is with the supermarkets.
"My first experience was really negative. They loved the product but the price was wrong. In the past I have sold my lambs at marts below the cost or production but I'm certainly not going to produce and process them below this cost.
"As long at they have this continuing battle between themselves over cheapness I can't see a great future for small farms like ours. The food in this country is controlled by the four big multiples and until they change their policies on cheapness we're never going to get out of this," he said.
In contrast, a measure of the success of the Northumbrian Quality Meats is that top chefs and restaurants are willing to pay retail price for its products and, in turn, Steve is able to pay farmer-suppliers premium prices – up to 260 a kg for the right organic beef.