Jennifer MacKenzie is an agricultural photo journalist with almost 30 year's experience. Operating from her base in Cumbria, Jennifer undertakes mainly industry-related freelance writing and photography.
High health Cheviots make the grade
Jeff Bell and his grandson Simon.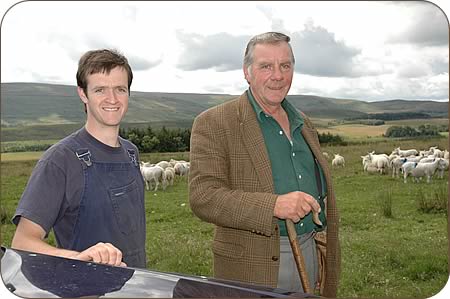 North Country Cheviots with a high health status are now central to the radically altered enterprise on a Cumbrian upland unit.
Greenside, Hallbankgate at the northern end of the Pennines near Brampton is a traditional upland farm running sheep and suckler cows on permanent grazing land at up to 1,000ft above sea level.
With encouragement from their landlord, Jeff Bell, who farms with his wife Joan and grandson Simon, entered into a Countryside Stewardship agreement with the conversion year being 2001 – the year all the stock were lost to foot and mouth.
The farm had carried 1,000 Swaledale ewes and 200 gimmer hoggs, breeding North of England Mule lambs alongside an 80-cow suckler herd.
Stocking numbers have now been halved to meet the extensive farming requirements of the environmental scheme.
After foot and mouth struck in April 2001, Jeff Bell was keen to re-stock, but with the experience of the disease still firmly in his mind and previous problems with having "bought in" sheep abortion, he wanted to source sheep with the highest possible health status.
"I once had problems with sheep abortion and the vet told me that I had bought it in and I was extremely annoyed to the point where I have never forgotten about it," said Jeff Bell.
Cheviot ewes.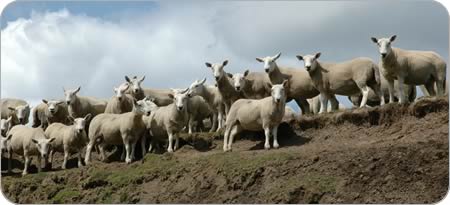 "I decided the best course was to buy North Country Cheviots from breeders who were in the Highlands and Islands Sheep Health Association (HISHA) scheme and were EAE accredited and of the highest health status.
"In the autumn of 2001 I went to the first sale at Tain and bought Lairg-type hill Cheviot ewe lambs for re-stocking."
The foundation ewe lambs were sourced from Armadale, Ribigill, Kinlochbervie, Inverbroom, Loubcroy, Scullomie, Durness and Sheigra and draft ewes from Keoldale.
They were kept at Jimmy Wilson's Tundergarth, Lockerbie, until the following April when relaxed movement restrictions allowed them back to Greenside for lambing.
As an alternative breed, some Blackface ewe lambs and draft ewes were bought from Doldy, near Pitlochry.
"I had been going to go back into Swaledales, but I felt they were too much money for their age. At the time I wasn't sure if the Cheviots were going to be right so I hedged my bets and bought 100 Blackface ewes and 50 ewe lambs."
Cheviot ewes with their crossbred lambs.

The ewes were able to brought to Greenside in time for the start of lambing on April 1 and Jeff Bell was surprised at how easy the hornless ewes were to lamb.
He also says they have made excellent mothers and the shearlings have had plenty of milk to rear two lambs, greatly reducing the number of pet lambs.
"The lambs were up very quickly and withstood the weather well. I have found them to be easier shepherded than the Swaledales. Below the farm we have a deep beck and previously we had to check it several times a day because the ewes would get in and not be able to get out themselves," said Jeff Bell.
"The Cheviots do not seem so keen to try to cross the river and we have eliminated the loss of sheep through drowning.
"We found the Cheviot lambs were in more demand than the Blackfaces so we decided to concentrate on the Cheviots."
The first year the ewes were all bred pure but last year the Bells decided to put the best 200 ewes to the Cheviot to maintain their registered Greenside flock and the remainder to the Texel and Dutch Texel.
Pure-bred tups used are from Achentoul, Keoldale and Mid Gruinards, all scrapie genotype one rams. All the flock's ewe lambs were scrapie-tested last year and the ARR1s and 2s have been kept for breeding.
Pure-bred shearling gimmers were selling at up to £89 a head through Lockerbie mart last year.
"It's a lot less work not having to prepare the Mule ewe lambs for sale. By the time you have dipped and clipped and prepared them you have put another three or four pounds a head on the lambs. Also we can get the sheep clipped a fortnight earlier which helps us as we cannot start any cropping until July 20 with being in the stewardship scheme," said Jeff Bell.
"Buying Cheviots is the best thing we have done," he added.
All the cross-bred lambs were sold last year with the ewe lambs in good demand through the ring at Longtown while wethers were making up to £69 a head through Penrith Farmers Mart.
"I found the cross-bred wethers to be in bigger demand than the Mules as well as being worth a lot more. The Cheviot draft ewes are also worth a lot more – we have been getting over £40 head for them."
Finished lambs were sold from September through to the end of February, in the final weeks receiving a mix and then barley which is bought off the farm at harvest time. The later finishers are brought inside.
As well as getting generally improved prices all round, the Cheviot ewes cost less to feed. Only the twin carrying ewes had concentrate, receiving up to three quarters of a pound in the month before lambing.
Last year's ewes scanned at 178 per cent with six producing triplets. Of the 12 ewes that scanned geld, five went on to lamb.
Lambing starts on April 10 outside. Ewes with twins are fed half a pound of concentrate for a month after lambing. Lambs, with the exception of a few pure Texels, get no creep feed.
The Bells have adopted the same high health policy when re-stocking their 30-cow suckler herd, buying Limousin and Charolais cross cows from the Hebrides with Limousin-sired calves being sold at 20 months old as stores.
They also run a seasonal hay and straw business.