Jennifer MacKenzie is an agricultural photo journalist with almost 30 year's experience. Operating from her base in Cumbria, Jennifer undertakes mainly industry-related freelance writing and photography.
Blonde d'Aquitaine Rumps are Trumps
Low-input, fast-maturing Blonde d'Aquitaine pedigree and crossbred cattle are integral to the farming system at Jubilee Buildings, Broomley, near Stocksfield in Northumberland.
And beef farmer John Gibb believes these qualities will enable the Blonde to play an increasingly important role in the industry post CAP reform in the absence of production subsidies.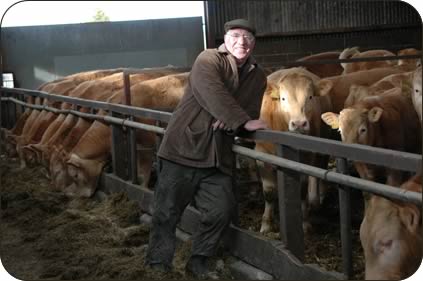 John Gibb with his pedigree Blondes
John and Muriel Gibb first tried the Blonde on their British Friesian dairy herd when they bought a half share in a bull more than 20 years ago and liked the results.
After going out of milk production in the mid 1990s they set out to keep half a dozen pedigree Blondes as a hobby.
However, now the Broomley herd numbers 50 breeding cows, with numbers boosted in the early days by females bought in a Carlisle dispersal sale for the Norwich-based Walcis herd.
Last year the Broomley herd lifted the best large herd title in the North of England Blonde Club's annual herds competition.
"The Blonde bulls did very well with the dairy herd and we sold the crossbred bulls for bull beef," said Mr Gibb. "There was always a big demand for heifers for suckler herds."
Now, as well as selling pedigree bulls and females both through the three Carlisle society sales a year as well as privately off the farm, the Gibbs buy in Blonde cross heifers as nine to 10 month old suckled calves at Tow Law and Hexham marts.
They are finished at 18 to 20 months old weighing 550-600kg liveweight through Hexham and Carlisle marts where they command prices at the top end of the market, as well as direct to local butchers.
"By selling to butchers we know that they kill out well – as high as 67-68 per cent. The Blonde has a good meat to bone ratio and they can be taken to quite heavy weights without becoming too fat," said John Gibb.
The pedigree herd has been closed for almost 10 years and with cows breeding successfully well into their teens, the Gibbs have been able to support Blonde society sales with drafts from their heifer crop – with up to 12 heifers a year selling at Carlisle.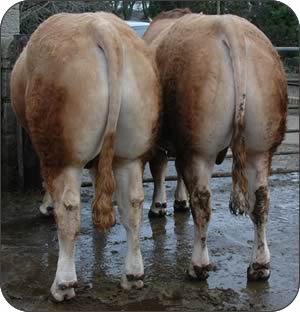 Two Broomley bulls entered for the sale at Carlisle on Friday March 11.
For the sale on Friday (March 11) at Borderway Mart there are three females and two bulls entered.
All five are by the current stock bull Hackleton Phoenix, an ET twin to the successful show bull and Royal champion, which was bought at 14 months old in the May 2000 Carlisle sale for 2,800gns with John Gibb being attracted by the bull's large, long loin.
"He now weighs about 1.5 tonnes and he is a big bull but he has never been any problem. He is good on his feet and, in fact, we have never had to dress his feet. As long as the cows are breeding well to him we will keep him and continue to sell his heifers," said John.
This month's sale entry includes the 24 month old bulls Broomley Udo and Umberto as well as three heifers – Broomley Unity, Ursula and Unique, all born in March and April 2003.
With the demand now for bulls that are ready to go out and work on up to 50 cows, they are sold older than several years ago when purchasers readily wanted them at 13 to 14 months old.
The Gibbs are helped at the 153-acre all-grass farm which is one mile long by part time stockman of 25 years Trevor Walker.
The farm, which rises from 400ft to 700ft and averages 26 inches of rainfall a year, also carries a flock of 220 North of England Mule ewes which are put to the Suffolk, with lambing peaking in mid February. Ewes and lambs are turned out two days after lambing, weather permitting.
The lambs are all finished off grass and are sold through Hexham mart with the majority away by the end of July and regularly topping the market.
The aim is to keep the working of the farm as simple as possible. The cows are housed from the end of December until the end of April and are only fed ad-lib chopped silage, calving in March and April inside.
"It's my belief that if a suckler cow can't produce a calf off grass and silage then she's not worth having. The Blondes perform well and I get a good return from them," said Mr Gibb.
"As well as having a high killing out percentage, they have a better temperament than some other continental breeds and they have performed better for us than other continental breeds.
"They achieve bigger weights than other continental breeds but they still don't get too fat giving a flexibility in the finishing period. Most of our crossbreds finish in fat class 3," he added.
The cows generally calve unassisted and calves have a will to live and are quick to get on their feet and suckle.
A popular bridleway for walkers crosses the farm and Blonde cows and calves have proved trouble-free.
The majority of the bulls are sold into suckler herds, with quite a proportion to influence early maturity in traditional breeds often running on high ground.