Jennifer MacKenzie is an agricultural photo journalist with almost 30 year's experience. Operating from her base in Cumbria, Jennifer undertakes mainly industry-related freelance writing and photography.
Increasing milk yield from home-grown forage
A west Cumbrian dairy farming family has made a two-fold impact on increasing milk from home-grown forage – by growing maize and re-seeding cutting and grazing fields with high sugar grass varieties.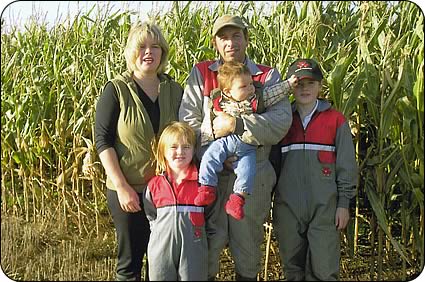 Tony and Denise with children Claire, aged five, baby Matthew (nine months at the time in September) and Grant, 10 and the maize before harvesting.
Tony and Denise Osborn farm 210 acres in partnership with Tony's parents John and Maureen at Bolthow, Gosforth.
They run a commercial black and white herd of 100 milkers, and sell 40 Limousin and Belgian Blue cross store cattle bred from the dairy herd each year. There are also 50 black and white followers and a flock of 50 ewes as well as 250 wintering sheep.
The family has farmed at Bolthow for 51 years and the policy is to stick with the current herd size and stocking rate and to concentrate on reducing inputs and making more from homegrown forage. In addition to achieving the reduced input costs, they have seen average yield increases of three litres a cow a day across the herd.
Maize, grass silage and home-grown chopped straw form the basis of the winter diet, which is fed through a TMR wagon with the addition of bought-in brewers grains and topped up with a proprietary 18 per cent protein concentrate fed to yield in the parlour.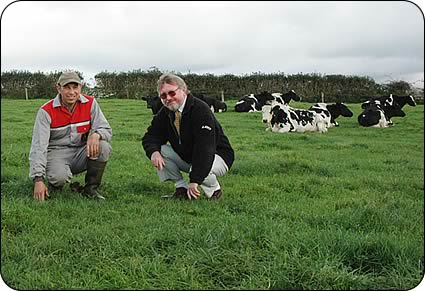 Tony Osborn, left, with Formula Leys director David Baldwin
Maize has been grown for the last three years at Bolthow on the advice of specialist seedsman and Formula Leys director David Baldwin, and this year's variety from the Dutch-bred Gold range of Golden Harvest far exceeded expectations.
Also on Mr Baldwin's advice three years ago the Osborns began re-seeding ground used for both grazing and silaging with the latest Aber High Sugar Grass varieties. These have been so successful that the bulk tank quite literally overflowed when cows were turned out onto the pasture last summer!
The maize crop when harvested on October 10 by local contractor Peter Sherwen was up to 12 feet tall with a high cob-to-stalk ratio and yielding around 22 tonnes to the acre.
"We had always wanted to grow maize because of the crop's high starch content and its suitability for the growing conditions on our very light land," said Tony Osborn.
"We started with a three acre trial plot three years ago with the variety Goldcob, which we saw as an insurance crop if we had a poor season for silage. It did really well so we grew five acres the following year and we put in the same acreage of Goldsile this year."
The maize was drilled on May 8 by contractor David Hope after a liberal application of farmyard manure followed by harrowing. The ground had also been fertilised in March with 2cwt/acre of 0.25.25 fertiliser. The ground was sprayed five days after drilling.
"This year's crop had two severe checks by the weather. In the spring the crop went yellow with the cold wind and wet weather. It looked pretty bad," said Tony. "When the weather warmed up it transformed the crop and the long dry spell didn't affect it at all.
"In fact, we had a visit from a US maize specialist who said the crop was the best he had seen in the UK.
At harvesting the maize was ensiled in a clamp on its own and it was treated with an inoculant.
The maize is incorporated in the total mixed ration along with grass silage when the cows are housed from November 10.
Last winter intakes of the palatable diet were averaging 50kg a cow when fed ad-lib. This year's diet at full housing comprises 30kg grass silage, 14kg maize, 0.5kg straw, 11kg brewers' grains, 0.5kg soybean pellets and 0.1kg TMR dairy minerals to give maintenance plus 15 litres.
At Bolthow 15 acres are re-seeded each year in September after the cereals have been harvested. Barley and wheat are grown on 10 acres with the straw being used for feed and bedding and the barley forming part of the youngstock diet.
The re-seeds on eight acres have been with a long term dual purpose cutting and grazing mixture using the best Aber High Sugar Grasses – AberDart, AberAvon, AberStar and AberZest – along with Timothy and white clover.
The High Sugar Grasses, which have resulted from several decades of grass breeding research, field trials and animal performance testing at the Institute of Grassland and Environmental Research (IGER), also have a high D value, good ground cover and are high yielding.
David Baldwin, an advocate of UK bred grass varieties, said: "The new varieties of grass with a higher water soluble carbohydrate (sugar) content are the fruition of more than 20 years' breeding work.
"Scientists at IGER recognised that cattle and sheep were poor converters of grass protein into milk and meat. A major reason for this is the imbalance between readily available energy and protein within the grass. Proteins are rapidly broken down when feed enters the rumen, but when the diet lacks readily available energy the rumen microbes can use less of the released nitrogen from the feed, so much of it is absorbed as ammonia and eventually excreted.
"By increasing energy in the rumen by feeding High Sugar Grasses, protein is better utilised and animal performance is increased."
This year's first cut silage analysed at 28 per cent DM, 14 per cent protein, and with a D value of 66.7. Metabolisable energy is 10.7 MJ/kg and pH is 4.1.
"Again, these High Sugar Grass varieties suit our light and sandy land, providing a more dense sward," added Tony. "This has proven to be more drought tolerant and recovers well during a dry spell.
"After sowing, the grass is grazed over the winter by sheep and it is cut for silage the following year at the end of May and in mid July. After that we turn the cows onto it. We calve all the year round and we have seen average yields rise from 22 litres a day to 25 litres from both grazing the new leys and the incorporation of grass silage and maize into the winter rations."
"We have also seen an improvement in milk quality, with the herd now averaging 4.2 per cent butterfat and 3.41 per cent protein in the autumn. This is the highest we have seen at this time of year and is another factor that is increasing the milk cheque."