Jennifer MacKenzie is an agricultural photo journalist with almost 30 year's experience. Operating from her base in Cumbria, Jennifer undertakes mainly industry-related freelance writing and photography.
Switch to Beltex brings profitability
A switch to the Beltex as a terminal sire to use on crossbred hoggs has improved the profitability of the sheep enterprise on a North Yorkshire mixed farm.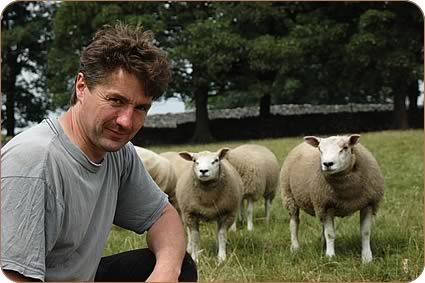 John Stapleton and Beltex cross lambs
John Stapleton, in a family partnership with his brother George and parents Kenneth and Sheila, run 450 acres at High and Low Skibeden, on the outskirts of Skipton.
A flock of crossbred ewes has long been part of the business which also includes a dairy herd of 150 milkers and a beef enterprise.
Traditionally, Mules are bred from bought in Swaledale ewes and now, rather than selling the Mules, they are crossed with the Texel. Since the Beltex was introduced three years ago, all the hoggs are crossed with the breed adding value to the sheep side of the business.
"We breed all the commercial ewes ourselves from bought-in Swaledales. We have gone down the route of using large terminal sires which enhance the conformation of the females to produce tight-skinned, large framed lambs with good loins," said John Stapleton.
"We wanted to lamb as late as we could because of our workload on the farm but we also wanted ease of lambing and to get the lambs away as early as possible.
"We have carried on that strategy with the crossbreds but we introduced the Beltex onto the hoggs because of their ease of lambing yet still maintaining a superior conformation lamb. The Beltex has given us what we wanted – a smaller, sharper type of lamb which is second to none. The cross just clicks!"
The hoggs, which are among 550 ewes lambed from the end of March, have been meeting a ready demand when sold with lambs at foot at Skipton auction mart and this year the good prices they were bringing meant that they were nearly all sold with the mothers from four to six weeks old.
This also creates a flexible system which the Stapletons can adapt depending on the market price and their stocking levels.
In previous years more lambs have been sold prime through Skipton and Otley markets.
Buyers of the hoggs and lambs are generally aiming to finish the lambs to hit the Christmas and January markets and are well pleased with their performance, says John.
"We lamb all our sheep outside by choice and we have no problems with the Beltex sired lambs.
"We average a 150 per cent lambing but the hoggs can easily look after two Beltex lambs and we find that unlike some other sires, these crosses aren't such a strain on the hoggs. We were finding that the hoggs had not developed to their full potential when crossed with other larger rams. The lambs are very quick on their feet and sucking," said Mr Stapleton.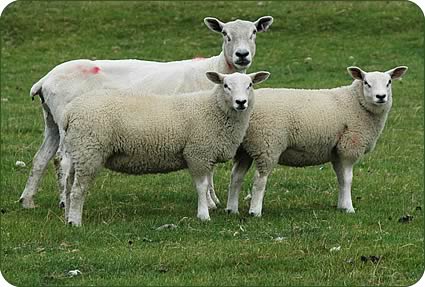 Texel cross ewe with Beltex cross lambs
The hoggs, depending on their condition, are fed with concentrate and hay or silage from six weeks before lambing.
"The crossbred Beltex lambs are thrifty. They grow well because of the hybrid vigour and as a result we give them no creep feed.
"The ewes and lambs are able to make good use of the spring grass and the milky hoggs are able to feed their lambs without any concentrate feeding – occasionally they are supplemented with either hay or silage."
John Stapleton buys UK-bred pedigree stock rams both as lambs and shearlings from the society's premier show and sale at Borderway Mart, Carlisle – he will be looking for more rams at the Carlisle sale on Friday August 11 August with females sold the previous evening.
He has also bought from the Northern Beltex Club Sale which, this year, is at Skipton on September 9, as well as one or two privately.
Because of the commercial market he is supplying, he is generally looking for a larger, long, tight-skinned animal to complement the larger hoggs it is crossing – although Mr Stapleton admits that even the smaller Beltex rams can surprisingly do the business with larger ewes.
"I have been paying up to 500gns for shearlings and between 350 to 400gns for ram lambs. I reckon my hoggs cost me £10 a head for service charges but at the end of the day the ram is half the flock," he said.