Jennifer MacKenzie is an agricultural photo journalist with almost 30 year's experience. Operating from her base in Cumbria, Jennifer undertakes mainly industry-related freelance writing and photography.
Beef Management for more than Meat
Beef producer Robin Edmondson has benefited from a new partnership which is helping to put his business back into profitability in the absence of headage payments.
At Walloway Farm, Penruddock, Penrith, Robin Edmondson, his son, Chris and brother, Peter have adopted M3 Beef Dugdale Nutrition's Management for More than Meat programme enabling them to achieve a sustainable and profitable beef strategy based on maximising the number of kilos of saleable meat produced, cost effectively, within 365 days.
During the last 12 months, the entire crop of continental cross bulls from his 150 cow spring calving herd averaged 640kgs at 365 days and they killed out at 61 per cent.
Heifers were grown on to finish within 18 months, to achieve an average 520kgs target weight and kill out at 60 per cent. Variable costs for the bulls during the finishing period stood at an average 59p/kg of daily liveweight gain.
Adopting a focused approach during the final finishing period enabled him to reduce overall feed costs per animal reared to 44p/kg, improve DLWG to 1.8kg and FCR to 3.3:1.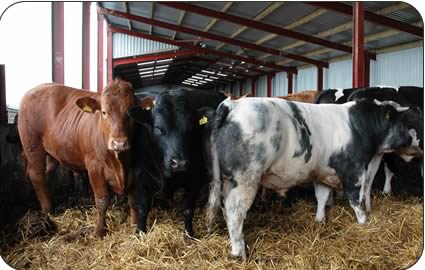 Finishing bulls at Walloway
Such performance has given the Edmondsons the confidence to expand the enterprise and buy in six month old calves to finish. Last year they turned over 150 head to leave similar margins to those achieved by the homebred cattle. Eventually they plan to expand throughput to an annual 350 head and fill to capacity Walloway's accommodation.
"Headage payments have masked the true performance of the beef sector for the last 20 years. The majority of all recorded units didn't make a profit without subsidies," said Donald MacLeod, of family-owned business Dugdale Nutrition which launches its M3 beef management programme at Beef Expo 2006 at Borderway Mart, Carlisle, on Friday (June 2).
Dugdale is launching the blueprint management system designed to maximise the potential of all types of beef units at a time when there is renewed optimism within the industry, sparked by the re-opening of the export market and the ending of the OTMS.
It follows on from the successful launch of the M3 concept within the dairy sector and its focus is on improving unit efficiency and subsequently profitability.
Called M3 Beef: Management for More than Meat, the initiative is a new cutting edge management tool to help farmers identify limiting factors of their business and adopt professional advice on how to progress with an accompanied detailed action plan.
M3 Beef will provide continuous measurement including cost p/kg daily liveweight gain, discipline these businesses initially to achieve producer goals and in turn, help them to maximise profit in their chosen markets.
Dugdale's Bryn Davies said the programme would be of no cost to producers committed to it.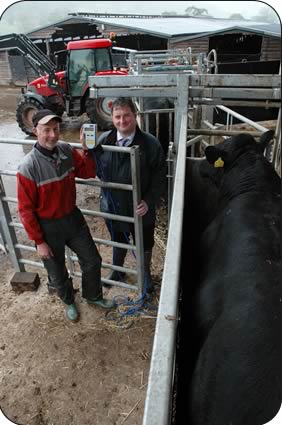 Adopting a focused approach, including weighing cattle, has led to improved profitability for Robin Edmondson, left, pictured with Dugdale's
Donald MacLeod
He said by following the programme there was the potential to add an extra £8,587 to the profitability of 100 finished beef animals.
"By achieving that we're moving a lot of the top third of producers into profit, which is a start. If they don't make a living, I don't make a living.
"At the moment the beef industry is run by bank accounts. Until this year the profit has been made by headage payments. If a producer can't make a profit from a unit why is he doing it?"
The Edmondsons have joined both the Lake District ESA marginal habitat scheme and Countryside Stewardship scheme for traditional hay meadows restricting stocking levels on 90 acres.
However, the family is demonstrating how their 550 acre SDA unit can be fully exploited for meat production. For example, finishing all the male calves by 12 months of age, frees up the accommodation sooner for another intake.
Until FMD, the family farm featured a traditional dairy enterprise and a complementary flock of 600 Swaledale and Greyfaced ewes. While the sheep enterprise was restocked with 280 Cheviot cross ewes with all lambs taken through to finishing, the Edmondsons decided to swap their dairy cows for sucklers and sell all calves through the store ring.
TB movement restrictions combined with a chance meeting with Dugdale Nutrition's Bryn Davies led all that to change. "We decided that the M3 Beef programme with its specific performance targets and diets had potential to help provide us with a profitable solution. We decided to give the pilot scheme a go, and we can honestly say it's working," Robin said.
"In the first instance M3 Beef has focused us on measuring performance and cost of production. Nowadays we know exactly how much it costs us to produce a kilo of beef, enabling us to make the most accurate decisions possible with homebred beasts and also when buying calves," said Robin.
"M3 Beef has encouraged us to weigh all our cattle on a fortnightly basis to check individual performance targets. We are very conscious of the fact a beast's FCR is most efficient in its first 12 months, after which costs per kilo of daily liveweight gain start to rocket."
Nowadays the Edmondsons house six month old calves with their dams in October, introduce them to creep, and wean at 10 months of age at which point the bulls are fed a carefully formulated finishing diet with high levels of starch and sugar to maximise growth, plus a high mineral inclusion to ensure good bone and frame growth.
Heifers are provided with extra opportunities to grow frame; they are fed grass silage throughout winter while still with their mothers, weaned and turned out to graze as yearlings and then introduced to the same finishing diet for the last eight to 12 weeks to reach target weight.
The following levels of performance were achieved on the M3 Beef pilot programme by the Edmondson's homebred bulls and a series of bought in Holstein bulls.
Robin adds: "Having overcome the 'fear factor' induced by the system's higher variable costs, the cost benefits of finishing cattle at a younger age and optimum FCR are very apparent. Furthermore, finishing both our own and bought in cattle under the M3 Beef regime not only rewards us with a higher level of profit but also a better cash flow."