Jennifer MacKenzie is an agricultural photo journalist with almost 30 year's experience. Operating from her base in Cumbria, Jennifer undertakes mainly industry-related freelance writing and photography.
TAG establishes Agronomy Group
The Arable Group (TAG) is establishing a new agronomy group in the west in Cumbria to help predominantly dairy farmers make the most of their combinable crops.
With the increasing trend towards specialising in one area of livestock production and the need to cut inputs and become more self sufficient, an increasing number of milk producers are growing arable crops.
TAG is a unique trials organisation operating 2s4 centres, funded predominantly by farmer subscriptions, providing independent, agronomic information to progressive arable farmers, using information derived from the largest network of agronomic trials in the country.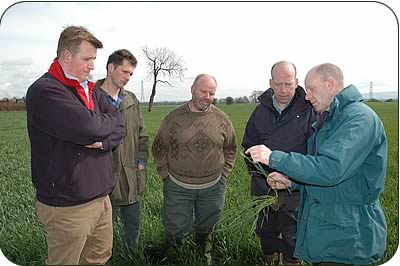 Agronomy group members, left to right, Neil Milbourne, David Coulthard, Thomas Ostle and Alistair Wannop examine a field near Carlisle of winter wheat variety Consort at growth stage 32 in mid-April with Dave Robinson, right.
The board of TAG consists of farmers and within each region local technical committees guide the trials work of each centre assisting the board in making The Arable Group the most successful agronomic trials and advisory organisation in the UK.
"We fine-tune the advice and information for this locality taking into account the weather and we give independent advice," said Dave Robinson, TAG northern regional manager.
"We're not trying to sell chemicals, seeds or fertilisers. It's about buying agronomy support rather than buying inputs," he added.
The group advises members on correct tank mixes, timing of application of fungicides and growth regulators as well as seed varieties, sowing rates and fertilisers.
"If you don't pay an independent adviser then you inevitably pay through the product for the distributor's representative.
"It also works as group therapy when you discover you are not alone in having particular crop problems," said Dave Robinson.
The first seeds for the North Cumbria Agronomy Group were sown in the autumn of 2003 following a successful crop competition run in conjunction with the summer's Cumberland Show in Carlisle.
One of the founding cereal growers and a member of the Cumberland Show's council was Neil Milbourne who farms at Walby Grange, near Carlisle.
"We had such a lot of entries for the competition we felt it would be useful to develop an agronomy group to help broaden our. knowledge of combinable crops. Most livestock farmers in the area are now growing a crop," he said.
"It's 13 years since I left college and a lot has changed since then." The Milbournes have grown arable crops for a number of years at Walby Grange
The 150 acres of winter barley and spring barley are all grown for home use for the herd of 180 milkers and young stock.
"We all get lots of information through the press but this is more specific to our area. My knowledge has improved and hopefully this is going to reap benefits in the future," added Neil Milbourne.
The group has the support of seven farmers in the area and the ideal would be to have between 15 and 20 members.
It is run along similar lines to other TAG agronomy groups – the nearest is in the Berwick on Tweed area and there are 30 nationwide – but the difference is that all the other groups are based in predominantly cereal-growing areas. The only group in the west is based around Ormskirk in Lancashire.
Costs of group membership start at £260 a year up to £875 a year for a farmer growing more than 2,000ha of cereals and there is a significant discount in the first year.
Thomas Ostle, who with runs a new LEAF demonstration farm at Mill House Farm, Gosforth, west Cumbria, and has 250 arable acres, said "I spend £15,000 a year on spray chemicals and I feel there must be a lot of room to make savings.
"I have 150 acres which is 15 miles away from the farm and it makes sense to use it for arable cropping than for livestock."
Dairy and arable farmer David Coulthard, of Justicetown, Longtown, has saved half a tonne of winter wheat seed for an 18 acre field by investing in seed scales to calculate his sowing application, as advised by Dave Robinson.
This would be the equivalent saving of £1,000 on his 100 arable acres and as a result of a lower plant population there would also be less risk of disease.
Group member Alistair Wannop, who has 600 arable acres growing winter wheat, winter barley, oil seed rape and spring barley which he runs alongside a 300-cow dairy herd at Linstock Castle near Carlisle, said: "Crop growing is a constantly changing situation in terms of plant varieties and treatments and at a time of low cereal prices it's critical that we grow crops as efficiently as possible.
"By coming to these meetings we are able to hear first hand what field research work is producing. To get that level of expertise in the north west is fairly exceptional."
To find out more about the Cumbria group contact David Robinson on 01507 313960, e-mail Dave.Robinson@thearablegroup.com