Jennifer MacKenzie is an agricultural photo journalist with almost 30 year's experience. Operating from her base in Cumbria, Jennifer undertakes mainly industry-related freelance writing and photography.
New farm trainee scheme will help more young people work in Cumbrian agriculture
Young people are being offered a new opportunity to get free training in Cumbria to enable them to work in the agricultural community.
Following the success of the Fell Farming Trainee project where six young people worked with clusters of four farmers each in the Lake District, Rural Futures, the county network of farmers, has set up a wider scheme covering the whole county, involving lowland farmers for the first time.
Farmers from the Croglin area who are backing the new scheme, left to right, Randal Raine, James Raine, John Thirlwall and Paul Stobart.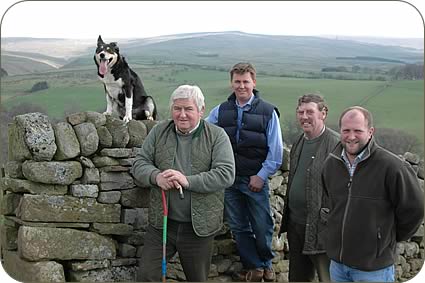 The aim of the Rural Futures Farm Assistant Scheme is to recruit new people into farming and help them set up as self-employed farm assistants and it already has the backing of a group of farmers on the Pennine fellside who are concerned about the lack of young people taking up agricultural work.
Agriculture is still the main employer in many rural areas of Cumbria with 6,000 farms employing 15,000 people, second only as an employer to tourism when considering the county as a whole.
Rural Futures assistant farmer network manager Will Rawling, said: "We are responding to the fact that the average age of a farmer is over 50 and that many farmers we are working with complain about a lack of young people coming into the industry from outside farming families.
"To make this work we need to find groups of between two and six farmers who are looking for some extra labour and who will take a young person under their wing by giving them help and support."
For the new scheme, the Rural Futures team needs to raise at least £5,000 in sponsorship from the private sector over the next few weeks, which will be used to draw in £15,000 public sector funding in order to train 12 people from July 2005.
The new programme will give young people 20 days' free training in the basics, plus a course to set them up in business as a self-employed "farm assistant", with funds allocated for their own equipment.
Working with a supportive group of forward looking livestock farmers they will give them help in getting regular work and honing new skills to work as farm worker and also in landscape maintenance after two or three years.
The Rural Futures network was closely involved with the successful Fell Farming Trainee scheme, with several members participating.
Richard Maxwell, who farms at Ennerdale and was involved with the original Fell Farming Trainee project, said: "The Lake District scheme was particularly successful. Trainees each had the benefit of learning all the practical tasks from four different farmers as well as getting some excellent training off-farm from experts.
"In return, the farmers had the benefit of some extra labour from someone they came to trust, without having to pay for someone full-time."
As result of this scheme, after 18 months, four trainees have successfully set up as self-employed farm workers, and all with full order books from local farmers.
Vicky McCartney with her sheep dog Glen.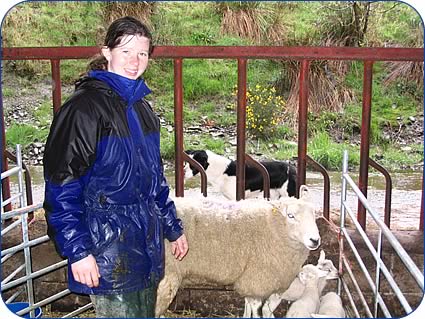 Vicky McCartney, aged 24, who is originally from Coniston, has now set up her own business based in Cockermouth after successfully completing last year's course.
"I wanted to go into farming since I was four when my dad was a shepherd but I struggled to find a place. So until last year I did various jobs including working on a caravan site and in a bar and a café," she said.
"During the course I worked with five different fell farms, mainly working with sheep and cattle although I did some tractor work. The training I had was excellent and it has worked out very well for me and I am not short of work in the area doing a variety of jobs from walling to gathering sheep and lambing," added Vicky.
The new scheme is supported by farmers from the Croglin area. "We see the scheme as creating an opportunity for young people who perhaps have had no experience of rural work and life to come into the agricultural industry," said James Raine, who farms in a family partnership in the Kirkoswald and Renwick areas.
His uncle, Randal Raine, said they were concerned that in the area along the Cumbrian fellside there was a lack of young people working in farming.
While the Raines employ full time staff there are occasions when they would use the services of self-employed workers as would John Thirlwall and Paul Stobart, who both farm at Croglin on their own without labour.
"There are a lot of people who could use the help of someone one or two days a week but currently there are no people available," said John Thirlwall.
Farmers, young people or sponsors interested in the Rural Futures Farm Assistant Scheme can get further information from Eileen Simpson at Rural Futures at The Old Stables, Redhills, Penrith, Cumbria, CA11 0DT, tel 017683 41821.