Jennifer MacKenzie is an agricultural photo journalist with almost 30 year's experience. Operating from her base in Cumbria, Jennifer undertakes mainly industry-related freelance writing and photography.
High sugar forage ensures dairying efficiency
Key to the simple management system of the dairy herd at Muirston Farm in Ayrshire is quality grassland for grazing and silage making.
The 120-cow pedigree Ayrshire herd is on a self-feed silage system with milkers fed to yield through an out-of-parlour feeder as well as in the parlour.
Willie Watson with his HSG silage among his Ayrshires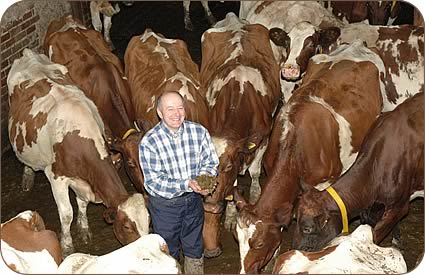 "Grass is the basis of the diet and I am always trying to improve the quality of the grazing and silage to increase uptake and improve yields," said Willie Watson, the fifth generation of his family to farm at Muirston Farm, Mauchline, near Ayr since 1850.
As a result of his continuing quest for improved leys he was one of the first farmers in Ayrshire to use IGER-bred Aber High Sugar Grasses in the autumn of 2002.
Limited supplies of seed at the time meant he was only able to sow a small acreage, with the pioneering diploid high sugar varieties AberDart and AberAvon making up more than 60 per cent of the mix's perennial ryegrass content.
Around 20 acres of the 270-acre farm is re-seeded each autumn following a barley crop. The 18-acre field sown with another high sugar mix in 2003 has provided two cuts of silage, which has been fed over this latest winter period.
"This is the first year we have had any real quantity of silage from the high sugar mixture and the cows are feeding very well on it," says Willie Watson, who farms with his sister Mary and parents Jim and Jean.
"A lack of sun last spring made silage making more difficult because of lower sugar levels in the grass, but an analysis of the first cut - made by our contractor David Laird in mid-May and spread and wilted for 24 hours maximum - has turned out higher figures than I had hoped for."
His target is for a D value of 70-plus and crude protein content of 16.5 per cent dry matter. This year's cut has analysed at 76.1 D and 16.5 CP and 12.2 ME with residual sugar levels of 3.3 per cent dry matter. The intake factor is 102.
In contrast, the reported lack of sunshine and resultant low sugar content in spring grass led to generally poor silage analyses throughout southwest Scotland, a factor that will have increased bought in feed costs for many farmers over the winter.
At Muirston Farm, the high sugar grass was further enhanced at silage making with the use of an inoculant developed specifically for grass and legume silages using a cellulase/hemicellulase complex to increase sugar available for the bacteria.
Focused management at Muirston Farm, including great attention to grazing and silage ground, has seen a huge reduction in the last couple of decades in the amount of concentrate fed to the pedigree Ayrshire herd.
"We are probably feeding 30 per cent less concentrate now than we were 20 years ago," says Willie Watson. "Silage intakes are up - we used to cut 70 acres now we do 120 acres for the same number of cows. We have been cutting earlier to get quality and while it is taking more silage we're feeding a lot less concentrate."
The herd's rolling average is now up to 7,600 kg and over 4.0 per cent butterfat and 3.35 protein.
Concentrates are fed to a maximum daily amount for high yielders of 9kg through the parlour and 3kg through the out-of-parlour feeders.
"We're trying to produce milk as cheaply as possible with a simple system and that is why we were attracted to the high sugar grass developed at IGER," he says. "I plan to continue to re-seed with Aber HSG mixtures as I have found no negative aspects to using them."
At the beginning of September 2004 a further 19 acres of high sugar grass mix were sown at a recommended high seed rate of 15kg per acre (40kg per ha).
Willie with Stewart Bryson in the field sown with the high sugar grass mix.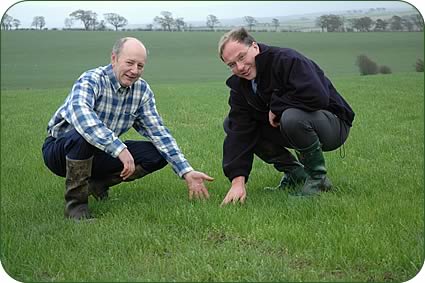 The formula supplied by Stewart Bryson, of South West Seeds, Thornhill, contains three Aber HSG varieties, AberDart (4kg per acre) and AberAvon (3kg) and the new hybrid AberEcho (3kg).
All three varieties are top of their respective groups for ground cover, overall yield, winter hardiness and sugar levels, so they offer far more than nutritional value. The balance of the mixture is made up with further late heading perennial ryegrass, Timothy and a clover blend.
When formulating mixtures Stewart Bryson places great emphasis on the research work carried out at IGER as it is one of the few institutes to use live animals to quantify the benefits of new varieties. Studies have shown that high sugar grasses have the potential to provide 6 per cent more milk, a 20 per cent increase in stocking rate, and 20 per cent improvement in liveweight gain in beef cattle and lambs.
"It takes around 15 years for research into new varieties to bring results and I first began to use the Aber high sugar grasses in formulas in the late 1990s," said Mr Bryson.
"The benefit is that the high sugar content of the grass helps the bugs in the rumen to work more efficiently. The effect is that there is less feed nitrogen lost in the urine which means it is not going into the environment but aiding milk production or the condition of the cow.
"IGER has carried out numerous studies using high sugar grass on commercial dairy farms and at its dairy unit at Aberystwyth. There are even better varieties being developed and we will consider using these in our grass seed formulas in the future."