Jennifer MacKenzie is an agricultural photo journalist with almost 30 year's experience. Operating from her base in Cumbria, Jennifer undertakes mainly industry-related freelance writing and photography.
Adamatic gets the job done
Labour inputs are kept to a minimum at Greenquarries, Rosley, in Cumbria where several thousand bought-in Mule ewe hoggs which are run on and sold the following autumn have been the backbone of the farming enterprise for more than three decades.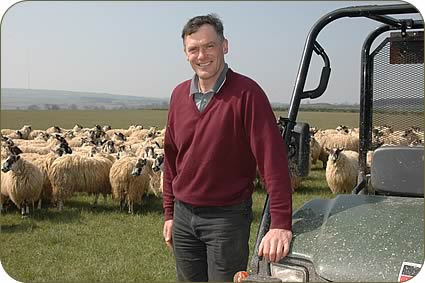 Peter Hetherington and his Mules
Peter and Frances Hetherington and their son Philip farm the 488-acre Church Commissioners holding where they have also diversified into running a successful simulated game and clay pigeon shooting ground in a disused quarry.
Up to as many as 4,000-plus North of England Mule ewe lambs have been bought in at autumn breeding sheep sales.
They are sold on the following autumn without having produced a lamb when each shearling has to be individually tagged with an S tag to identify the holding.
For the last three years the Hetheringtons have used an automatic sheep tagging system, the Adamatic from Scottish borders specialist tag manufacturer Roxan ID, dramatically cutting time and labour in a welfare-friendly operation.
Among those already who have also taken up the system are The Royal College of Agriculture at Cirencester, SAC, Roslin, and many leading sheep producers and breeders.
In the 12 months to April 2005, Roxan tag sales have trebled to five million in the UK thanks to the popularity of Adamatic. This represents one in five UK lambs/sheep.
Peter and Philip run Greenquarries without any additional labour, relying on contractors to sow and harvest the 55 acres of cereals as well as doing fencing and work to meet Countryside Stewardship requirements.
Apart from 25 acres of Swedes and a further 25 acres of set-aside, the farm is all down to grass with the sheep being outwintered.
"We have been running this system for more than 30 years since the family came to Greenquarries. It works well for the farm, which is on heavy clay land and we can stock the sheep quite heavily per acre," said Peter Hetherington.
"The sheep are wintered away on turnips from January and return to our turnip acreage in March and April when the farm is drier," he added.
Mule ewe lamb numbers have been as high as 4,200 head however, this year uncertainty over the future with the Single Farm Payment as well as the high cost of ewe lambs last autumn, mean there are only 2,000 sheep on the farm this year.
All the gimmer shearlings are sold privately generally in September to producers as far afield as Fife, The Midlands, Devon and Surrey and they are tagged with an individual S tag.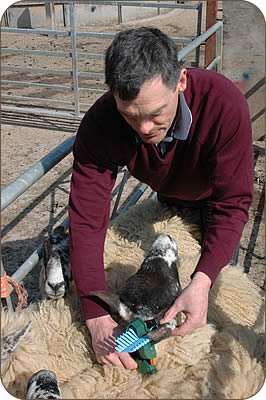 Peter using the Adamatic automatic tagging system
"Once we have sorted them into batches of say 100 sheep we tag them before they leave on the lorry," said Peter Hetherington.
"We started using the Adamatic automatic tagging system in 2002 and we have continued to use it because it gets the job done so much quicker than with conventional tagging.
"I would estimate that we can tag up to eight sheep with the automatic system in the time it took to tag one with a conventional system.
"Also, Philip and I used to work together with one loading the individual tags into the pliers whereas now we can work single-handedly, saving on labour time.
"We have tended more recently to sell the shearlings a little later which tends to clash with the ewe lamb sales so Philip is left at home to get the sheep ready for the lorry while I go to the sales to buy more in," said Peter Hetherington.
The Adamatic gun, which has been perfected through a process of feedback from pioneering customers, is also quick and easy to load and its effectiveness means there is little wastage of tags, he says.
"I also like the Adamatic tags because their smaller diameter pin does not damage the sheep's ears. When the ewes are tagged there is no bleeding and there is virtually no reaction from the sheep which must mean that it is relatively painless."
All other manufacturers make their sheep tags with the piercing pin and the identity strap of the same material. Roxan ID's design with a re-inforced plastic pin means that the pins can be much thinner than most, and the straps softer. Dual materials is a feature of almost all the company's tags.
Mr Hetherington says the smaller-pinned tags are less likely to damage the cartilage in the sheep's ear causing it to droop which can then detract from the appearance of breeding sheep.
The soft plastic of the tags makes them more flexible and less likely to be caught on fencing and be pulled out, he said and the unique method of printing identification numbers on the tags with black ink which is then sealed – tested by Roxan ID for more than 10 years – makes them easy to read, he adds.
"I wouldn't go back to tagging sheep with the old method as long as there is an automatic system such as the Adamatic," said Mr Hetherington, who has recommended the system to other producers, including the Royal Agricultural College.
Roxan ID is now finalising the design of a new electronic tagging gun called Electromatic.
Mr Hetherington said electronic tagging would be useful to farmers running a lot of sheep if it was reliable and cost-effective.
"For me, turning the sheep over after a year, it's probably going to be an expensive system, but if a producer is buying sheep and say keeping them for five years then it could be an advantage, particularly if we have to record sheep movements more regularly."
The Adamatic system it is value for money with the gun being sold for half its original price at £30.
Each automatic tag costs 16p which is no more expensive than some of the hand tags on the market and is particularly good value for a tag that simply has no equal in it's suitability for use on both baby lambs and adult sheep.