Jennifer MacKenzie is an agricultural photo journalist with almost 30 year's experience. Operating from her base in Cumbria, Jennifer undertakes mainly industry-related freelance writing and photography.
Poll Dorset Breeds Success
Jemima Jones shares a passion for livestock with her parents Martyn and Jane and she is now heavily involved with the day to day running of Corntown Estates, Bridgend in South Wales.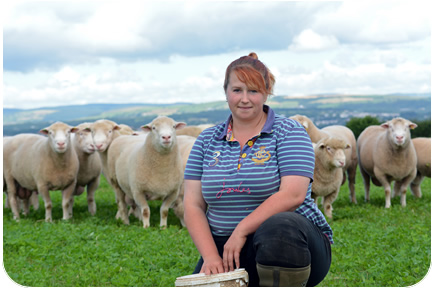 Jemima with a bunch of home-bred rams
The farm runs to almost 600 acres in The Vale of Glamorgan and Poll Dorset sheep have been integral to the operation and a favourite with the family for more than two decades - and now the breed is set to play an even bigger role.
The flock of 1,200 Dorset ewes, with the ability to lamb at any time of year, are an integral part of the mixed livestock and arable operation which includes finishing cattle, bronze turkeys reared for Christmas, pigs, laying hens - and horses.
"We're using the sheep to the farm's benefit in the crop rotation and for providing manure along with the cattle which helps us cut the cost of fertiliser," said Jemima. The farm was run organically for almost two decades until several years ago but the Jones still try to apply the principals when possible.
The next plan for the business is to expand the direct marketing of the meat they produce to the public through a farm shop which will based in the family's DIY shop in Pyle, near Bridgend, alongside a new coffee shop area. Currently, a wide range of fresh and frozen meat such as lamb, beef and pork sausages, beef roasting joints, steaks is sold from the farm.
Jemima, aged 25, began working full time on the farm three years ago after completing an equine course at Bridgend College, Pencoed, followed by a BSc Hon Degree in organic agriculture at the Royal Agricultural College, Cirencester.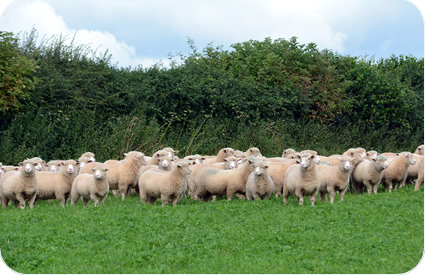 ewe lambs on red clover
Martyn Jones's interest in Dorset sheep began when he was just 11 when he bought his foundation females from well known Dorset breeder and commercial cattle and sheep showman, David Matthews, of Treoes, near Bridgend, who helped him establish the Corntown flock.
Martyn has always taken great pride in his flock and shown them to a high standard and getting highly placed on every outing. Especially with the third generation, Archie Jones, Martyn's Grand father, Martyn and now Jemima taking part and showing the flock proudly in Glynnogough Show, and The Vale of Glamoregan Show being placed first in many classes.
After studying agriculture at Usk College, Martyn and his wife Jane, whom he met at college, continued to expand both the flock and the farming enterprises.
With numbers of Poll Dorsets now at 1,200 ewes, the majority of the flock has been run commercially, although there are now approaching 100 pedigree ewes.
The plan is for sheep numbers to be increased to more than double the current flock size.
With only family labour and the help of one man, breeding cattle are no longer kept to reduce the workload - they were Longhorn-Hereford crosses.
Now either Hereford or Angus heifer calves are bought at three to six weeks old and they are finished at 15 to 22 months old with around 500 being finished a year.
They are fed home grown silage and home milled cereals through a complete diet feeder.
"It is all a balancing act on the farm and, now we have decreased the cattle numbers and the work load, we find we can manage a lot better with not having to calve the cows in between the lambings," said Jemima.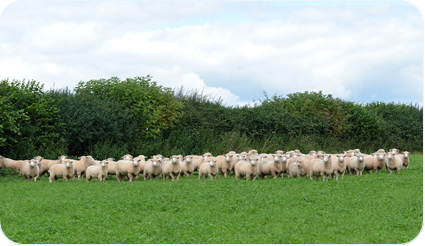 ewe lambs on red clover
The ewes are kept in two flocks of 600 including ewe lambs, and they lamb three times in two years. Each lambing is kept to as tight a six week period as possible. This year, home-bred pedigree rams have been used. To help fertility, teasers are used before the rams are put in to help all the ewes sync and keep to the tight six week lambing period.
The lambing periods start in the second week of February, the second week of July and the second week of October.
All the sheep are electronically tagged for management and breeding purposes and this also helps with the selection of pedigree breeding rams now being used on the flock. All the ewes are lambed indoors which helps ensure there is no mis-mothering to maintain the accuracy of the tagging and to help support any new mum or weak lamb and to be able to assist in lambing if needs be.
"The ewes are given three cycles with the ram and if they are not in lamb they are assessed to find a reason to why they may not be catching, weight wise or just out of synch completely, if nothing can be found or something is wrong with regards breeding from them they are then culled as there is no point in keeping the dead weight," said Jemima.
As many of the double ewe lambs are kept as possible and put back into the flock as the Jones have found that they are likely to produce twins.
"We plan to considerably increase the sheep flock - to around 2,500 ewes. We also want to increase the number of pedigree sheep. My Dad is very choosy in what he selects and this year we have added 25 ewe lambs to the pedigree flock to make 100 females and there are eight home-bred rams," said Jemima.
"Eventually, I would like to sell pedigree stock. I am very impressed with the society's sale in Exeter which is a real shop window for the breed and it is my ambition to show and sell there," she added.
"I like the Dorsets because you could almost put them on a concrete yard and they would maintain condition! They also have great fertility and I find it's not an issue with them. They are also great mums and can produce amazing amounts of rich milk for the lambs."
"We can turn them out in the early part of the year in wintry weather and they just get on and graze. They love stubble turnips. We don't have trouble with hedges with them," said Jemima.
Cereals are grown on 150 acres in a continuous rotation, plus there are 80 acres of stubble turnips and 25 acres of swedes have been grown for the first time this year.
The remaining acres are mainly made up of red and white clover grass leys that are mixed with a variety of rye grasses. The red clover leys are cut off early on in the year to be cut later on for silage, haylage and hay.
There are only a few acres of permanent grazing, which means that almost the whole farm can be in a rotation between crops, resting crops, stubble turnips, long term leys and short term leys, the Jones are always looking to put back into the soil and ground what is taken off.
The autumn born lambs and ewes are grazed on the stubble turnips and in the early part of the year they graze the winter barley when it is still at the leafy stage. This helps to take out any weeds and helps to protect the crop from frost.
group of 10-11 month old heifers
In March the lambs that were born in October are then weaned. Those who are not fit are then placed on to the swedes. The Swedes are super high in protein that will help the lambs to grow.
"We like everything to go out into the sunshine in the summer," said Jemima.
The average lamb weight is 37-40kg live weight with some up to 55kg. They are sold mainly to Dunbia and some go through Cowbridge market and now being sold through the farm direct to the customer.
At Easter 2015, the Jones won first and second prizes in the under 35kg lamb class at the market.
An increasing number of naturally reared lamb - as well as beef - is being sold direct since last October.
The animals are slaughtered at Maesteg slaughterhouse and they are cut and packed by an experienced butcher in a new facility on the farm.
The range of meats produced is being expanded. It includes different joints and now lamb sausages.
"The Dorset's ability to lamb out of season perfectly suits our aims to market fresh, naturally reared lamb all the year round," said Jemima.
As well as the Old Spot cross Pietrain pigs which also produce meat products for the retail side of the business, the laying hens produce eggs and there are the turkeys for Christmas.
The Jones are also equine enthusiasts. At one time they had 75 horses from Irish draughts to Section A Welsh driving ponies which they bred and sold on for riding and driving. Being busy with so many other things on the farm, the horse have now become a hobby and have decreased to only five.
**The annual Dorset May Fair in Exeter Livestock Centre on Tuesday and Wednesday (May 3 and 4) on behalf of the Dorset Horn and Poll Dorset Sheep Breeders' Association, conducted by auctioneers Kivells, is one of the largest sales in the UK for commercial early lambing ewes as well as pedigree rams and ewes and it provides a yardstick for the year's forthcoming breeding sheep sales.