Jennifer MacKenzie is an agricultural photo journalist with almost 30 year's experience. Operating from her base in Cumbria, Jennifer undertakes mainly industry-related freelance writing and photography.
Milking Ayrshires Pays Off

A decision to go against the trend and milk Ayrshire cattle 12 years ago is paying off for a Cumbrian family.
With twin sons James and Philip wanting to work at home, Frank and Margaret Mattinson decided to re-establish a dairy herd in 2001 after a 12 year break running sucklers and sheep.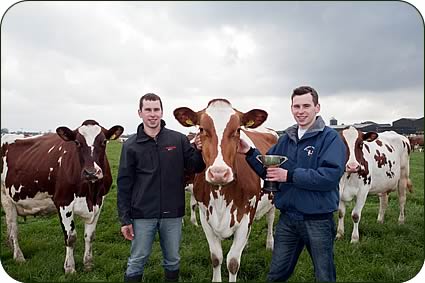 James (left) and Philip with the miking cows at Rosewain Farm
But unimpressed with the wearability of the Holstein, they invested in the modern red and white type of Ayrshire to establish their Troutbeck herd near Carlisle.
Following a move to Rosewain Farm, Wigton, in 2005, herd numbers have steadily increased to the current 250-plus milkers which retain all the qualities of the traditional Scottish breed, blended with the production from modern Dutch red and white Holstein bloodlines.
The CIS recorded herd's rolling average of 7,950kg at 4.6 % butterfat and 3.3 protein produced an average combined weight of fat and protein of 584kg to top the breed section in the Cumbria NMR revived herd competition for production to the end of September 2011.
Their commitment to dairying in 2005 and the opportunity to buy Rosewain led to further significant investment as it had previously been an arable and sheep unit. Slurry storage and a 16x32 parlour were among the facilities needed at the farm.
Now the Mattinsons are farming 480 acres, 220 of which are owned, and running a total of 250 cows in the herd and the future is likely to lie in making the most of the demand for red and white cattle and selling surplus heifers, rather than expanding the number of milkers.
"We're thinking that the route we will go down will be in selling surplus newly calved heifers. There is increasing interest in Ayrshire type cattle and a lot are being sold into black and white herds because of their longevity and wearability," said Frank. "We have had no regrets in deciding on the Ayrshire."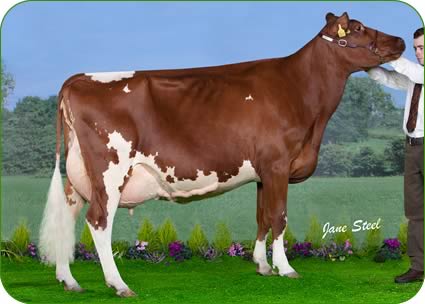 Troutbeck Antic 17
The Troutbeck herd is closed and with the successful use of sexed semen on the heifers over the last four years, 118 heifers are due to calve this year, more than half of which will be for sale through the ring or privately. The first four calved sold at the weekly Borderway dairy sale in March to average £2,000.
A lot of older cows were bought to establish the herd, including 90 from the Middle herd at Brampton many of which are still milking into their teens. However, to bring down the average age of the cows and with a number of older cows being taken out because of good cull prices, it is likely that 50 of the heifers will be kept as replacements this year.
"It's the cows that stay, that pay," said James, who carries out the AI work on the herd. "It the cows that have done three lactations and more that start to pay the bills. Some of the cows we originally bought are in their 12th lactation."
The herd's bloodlines average 50-50 Ayrshire-Holstein. The tendency is to use Dutch red and white Holstein bloodlines to avoid breeding an extreme type of cow but with the aim of continuing to improve production and retaining the traits of longevity, wearability and high constituent value milk of the Ayrshire.
Milk is sold at a premium for quality to Milk Link on a Lockerbie Creamery cheese making contract.
Heifers are given once chance with the sexed semen then they run with the bull and they are achieving up to 72% conception rates.
Dutch bull Classic has been used most recently for AI, while stock sires have included Middle, West Mossgiel and a jointly owned bull out of the 2010 AgriScot and 2011 Highland Show red and white champion from the Killoch Punch family by Bookman.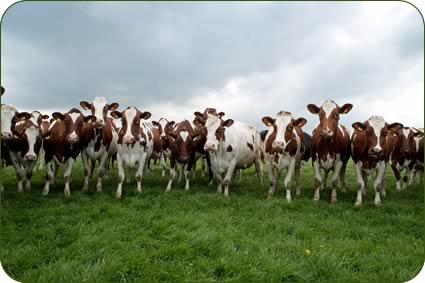 Ayrshire Cows at Rosewain Farm
The Mattinsons carry out embryo transfer work on a valued cow every year and more recently they have embarked on a relatively new procedure for dairy cows - IVF with their vet, Paragon in Dalston, and they are quietly optimistic.
West Mossgiel Miss Modern 5 Ex93 by Attwell Amadeus with a 75% Ayrshire pedigree and high constituent values, so far has produced three pregnancies by a 100% Canadian Ayrshire bull, Burdette, and was sold to them by Robert Cunningham, of West Mossgiel, Mauchline, Ayrshire.
The cow is one of the top Ayrshires in the country but getting her back in calf and flushing her proved unsuccessful so the Mattinsons agreed to buy her for her cull price. Two of her most recent sons sold for 4,200gns and 4,500gns. She produced seven natural calves and numerous ET progeny.
Philip and James are keen to promote the herd and the breed through the show ring and have notched up numerous successes at the Royal Highland and AgriScot as well as the All Breeds Calf Show.
Their current show cow Troutbeck Antic 17, a 50% Ayrshire daughter of the first of the original cows to set foot off the wagon, is still producing 41kg a day 207 days into her 2nd lactation and she is projected to produce 12,137kg at 4.75 butterfat
The cows are run as one group and fed a diet of grass silage, a blend and wholecrop wheat grown off 60 acres - the rest of the farm is grass, most of it seeded after 2005.
They are fed to yield in the parlour and the diet is closely monitored with nutritionist Ian Wozencroft, of NBUK. The cattle are turned out from early April and they are out day and night during the summer and buffer fed with grass silage - the aim is to produce a quality crop but plenty of it.
The only other stock on the farm are sheep that are wintered until the end of February.