Jennifer MacKenzie is an agricultural photo journalist with almost 30 year's experience. Operating from her base in Cumbria, Jennifer undertakes mainly industry-related freelance writing and photography.
Science saves the hardy Herdwicks

Breeding Herdwick sheep has been in the family for generations for Andrew and Karen Nicholson.

When they started farming at Swinside End, High Lorton, near Cockermouth, in 1996 they established their own Bank Fell flock from Herdwicks from Andrew's grandfather Gordon Stagg and Karen's grandfather Jack Bland, who both farmed in Buttermere.

Such was the quality of Gordon Stagg's flock that he broke the record in the 1970s when he sold a ram for £100.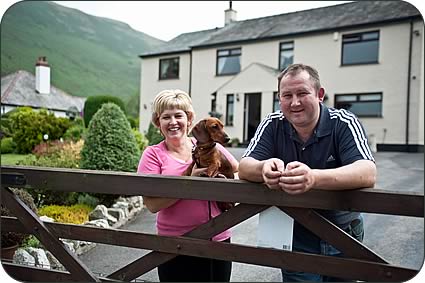 Karen and Andrew Nicholson with Dachshund Frankie
In 2001's foot and mouth epidemic the Nicholsons were fortunate to save some of the flock's bloodlines from the contiguous cull, thanks to Prof Dianna Bowles of the University of York and The Heritage GeneBank, set up during the crisis to protect the UK genetic biodiversity of sheep breeds.

The project attracted funding which enabled semen to be taken from one of the Nicholson's home-bred Herdwick rams which was used for the first time last autumn and six lambs - one ram and five females - were born in May along with another six lambs from embryos.

During the crisis, a vet managed to persuade Defra of the importance of the breed and the Bank Fell bloodlines and and Nicholsons were able to keep 40 of their ewe.

Now numbers have reached those pre-foot and mouth at 400 ewes, bred from the sheep that were saved, supplemented by bought in sheep from leading breeder, Anthony Hartley, of Turner Hall, Seathwaite, Broughton-in-Furness.

Herdwicks bred by the Nicholsons have sold for £3,000 at Cockermouth for a home bred shearling ram in 2009. A firm believer in the live ring, Andrew is a director of Mitchells Auction Company in Cockermouth.

They also fly the flag for the breed and hope to be able to show some of the AI lambs at Borrowdale Show, the 'Herdwick Royal' in September.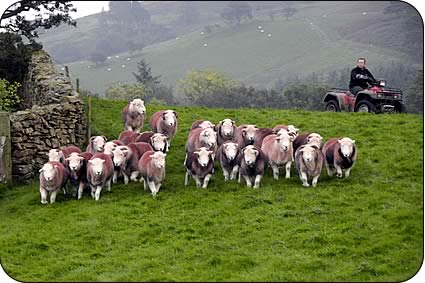 Herdwicks
Photo by David Stephenson
The Nicholsons farm 1,000 acres of owned and rented SDA ground as well as 250 acres of enclosed common on Bank Fell.

They have a flock of 1,000 Swaledale ewes which run on Braithwaite Common, which are bred pure and also crossed with the Bluefaced Leicester to produce replacements for their 200-ewe North of England Mule ewe flock.

At last year's NEMSA show and sale at Cockermouth mart, Mule gimmer lambs averaged £101 a head and collected second and fifth prize tickets.

Replacement Bluefaced Leicester rams have been bought in from John Lord, of Dowgill, Stainmore, although with flock numbers for the crossing type of Leicester now at 15 ewes, Andrew hopes to have some rams of his own to sell.

Swaledale stock tups are bought locally, mainly from Keith Ireland, of Stockhow, Ennerdale.

The Mules are crossed with the Texel, with some ewe lambs retained for crossing with the Blue Texel.
Swaledale ewes with Mule lambs
Lambing begins on March 1 with the Mule and Texel crosses, followed by the Swaledales crossed with the Leicester on March 20 and the fell Swaledales in mid-April.

All the lambs are sold finished through Cockermouth, with Mule-Texel crosses last year averaging £70, Texel cross Blue Texel crosses at £89 and Herdwick wethers making £75.

The farm also carries a herd of 50 Limousin cross and British Blue cross suckler cows, all put back to the Limousin bull. Some replacements are home-bred for the spring and autumn-calving herd.

Calves are sold at nine to 10 months old through Cockermouth from January to May. Calves have sold to a top of £4,000 for a heifer two years ago.

Heifers this year won the championship at the March show, selling at £2,200 with anothr heifer at £1,900. Both were by pedigree stock bull Keskadale Vigo, bought from Keith Harryman, of Newlands, Keswick. A second stock bull, Edmo Barbecue bred by Sarah Edmondson, of Wigton, has also been breeding well.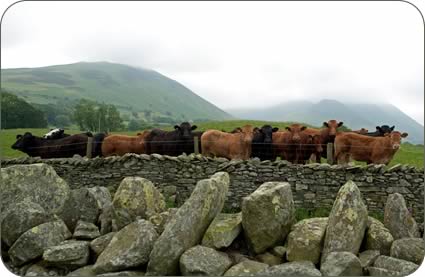 Limousin cross suckled calves
Ten years ago Karen began taking in bed and breakfast guests at Swinside End and such was the success of the venture that they extended the house to provide a fourth bedroom and guest dining room.

The three double and one twin, en-suite rooms and the high standard of accommodation and service has earned a five star silver award from the English Tourist Board.

While crossed by the Coast to Coast Cycle Route, the Lorton Valley is quieter than other parts of the Lake District and Swinside End makes an ideal base to tour the western Lakes or from which to go east to Keswick and the heart of the popular tourist region.

The bed and breakfast business is mainly Karen's domain - from the tasteful decor in the house to the immaculate gardens which overlook the valley and the fells beyond - Andrew dons his apron each morning to fry the eggs and make the toast for the guests' breakfast!

Also popular with farmers visiting the area for sales, the accommodation can be seen on the website at www.swinsideendfarm.co.uk