Jennifer MacKenzie is an agricultural photo journalist with almost 30 year's experience. Operating from her base in Cumbria, Jennifer undertakes mainly industry-related freelance writing and photography.
Town End Alpacas


A small farm in the south of the Lake District National Park enabled Brian Raine and his wife Kim to revisit his ancestral agricultural roots and quit the world of international business.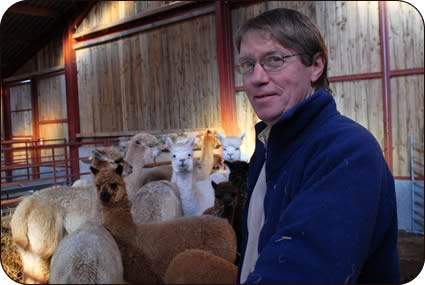 Brian Raine and alpacas
Four years ago the couple fell in love with Town End Farm, Crosthwaite, in the Winster Valley near Kendal, and, as well as including the letting holiday cottage they wanted, it also had 50 acres of land.

"I worked for various very large companies, mainly in trouble-shooting roles, and I wanted to do something radically different. When we saw Town End Farm we realised there was a lot we could do with it but we didn't know what at the time," said Brian.

"Kim had always sewed and knitted, having been taught by her grandmother who was a seamstress. We talked about having a few cattle and sheep. Then Kim said why don't we have alpacas!

"We looked into it and then started to investigate further, visiting different breeders. We decided to go for top class animals as the venture needs to be in a niche market."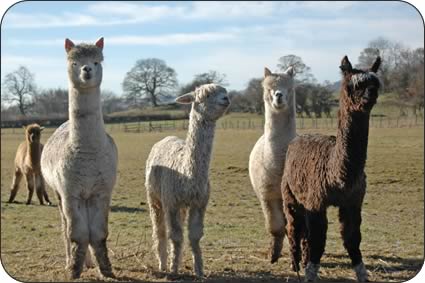 Alpacas
Now the herd numbers around 100 animals, including 40 breeding females, which are run alongside a small herd of pedigree Belted Galloway cattle and a flock of Wensleydale sheep, all registered under the Town End prefix, to assist the Raines in a quest towards self-sufficiency.

The prime focus of the farm is the alpacas which started with 13 top-class, prize-winning breeding females. Further additions mainly from Peruvian bloodlines have been made with Australian imports and purchases from other UK breeders, which have included stud males, the most recent being a champion at the Australian national alpaca show.

All the fleeces from the alpacas are processed in a mill and they return spun for weaving or knitting into top quality garments to Kim's own designs, using the wide variety of natural colours of the fleeces.

Each alpaca produces between one and two kilos of top quality fleece a year and, to supplement this, more is bought in. The alpaca accessories are sold on-line as well as through top store Selfridges, and also at local shows and events where the Raines promote the animals.

As well as using the fleeces, there is a ready demand for alpacas for breeding as well as geld males to be kept as pets and the Raines keep a variety of colours of animals, both for their own use for the fleeces and for animals for sale.

Most of the Town End alpacas are the Huacaya type with a more woolly appearance, the remainder being Suri, recognisable by their dreadlocks and the hardiest and heaviest of the two types. They are medium sized animals which produce exceptionally fine fleeces.

As well as the annual clip, which is carried out by a visiting Australian shearer, the alpacas produce young, called cria, on average every 18 months taking into account an 11 months gestation period.

At Town End the alpacas are able to access paddocks all the year round with shelter in buildings during winter.

The animals are susceptible to similar diseases as sheep and as well as encouraging newcomers to alpaca keeping and breeding, the Raines are keen to pass on their knowledge and support as well as running courses, which include basic husbandry. Details can be seen along with animals and garments for sale on-line at www.town-end-alpacas.co.uk

Town End Alpacas is a member of the British Alpaca Society and the Raines are the welfare representative for the north west group of the British Alpaca Society.

The alpaca herd is now reaching numbers which will meet both the requirements for fleece and number of animals for sale, although some new blood lines will inevitably be bought in to further progress the genetic quality of the animals.

Testament to the quality of animals in the herd is their achievements at shows, including winning the supreme champion Huyacaya among strong competition at the Westmorland County Show in 2009 with the home-bred male Town End Magnus, now two years old.

The Raines chose native, rare breeds of cattle and sheep to run alongside the alpaca herd.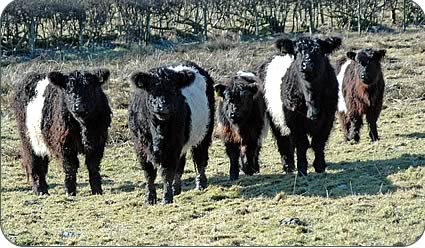 Belted Galloway cows and calves
After tasting the beef from Belted Galloways, they bought six pedigree yearling heifers from Askerton Castle as the foundation for the herd, finishing a few Limousin cross cattle while the females matured.

Now the herd numbers five cows and two in-calf heifers and natural service and AI has been used. Females not retained as herd replacements will be sold and male calves finished for the freezer.

Wensleydales were the choice sheep because they are a northern breed - Brian's family were butchers and farmers from the Durham dales - as well as for their fine, longwool, lustre fleece.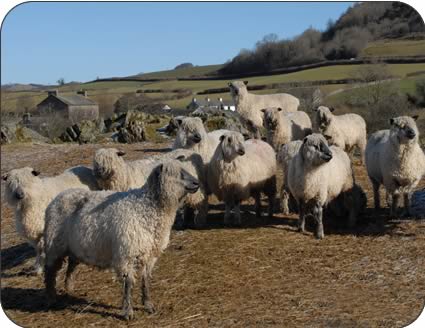 Wensleydale in-lamb ewes
The original five females bought from Wensleydale Sheep Society secretary Barbara Metcalfe in County Durham still form the nucleus of the flock.

The holiday cottage at Town End has been upgraded to English Tourist Board 4 Star status with a Gold award and sleeps four adults and two children.

The superior accommodation and the location - close to Windermere and the south Lakes and in the Winster Valley made famous by Swallows and Amazons author Arthur Ransome and its beautiful damson trees - has attracted visitors from around the globe as well as from the UK.

The cottage is offered at reduced rates for couples on their own and it is available for short breaks as well as holidays. Full details are available at www.town-end-farm.co.uk