Jennifer MacKenzie is an agricultural photo journalist with almost 30 year's experience. Operating from her base in Cumbria, Jennifer undertakes mainly industry-related freelance writing and photography.
Dunham Dairy Shorthorns
A traditionally-bred Dairy Shorthorn herd has been bringing in the profits for more than 60 years for a Cheshire family.

The Dunham herd was founded by Charles Royle with 10 cows and a bull from the Fylde herd, a wedding present from his brother, when he moved to Village Farm, Dunham Massey, Altrincham, in 1947, moving to the nearby 217 acre Home Farm in 1970.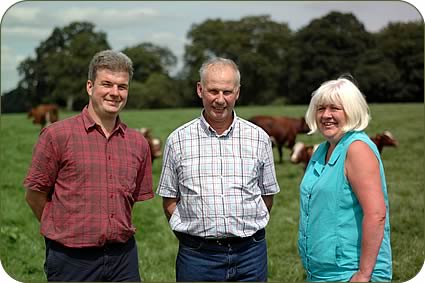 Stuart, Geoff and Sue Royle with their Dunham herd
His son Geoff and his wife Sue and their son, Stuart, continue to manage the herd and the farm along traditional lines with all animals having a minimum of 75 per cent Dairy Shorthorn bloodlines.

"I have never milked any other breed than Shorthorn so I can't make direct comparisons, however, we take part in the Farm Business Survey carried by Askham Bryan College for Defra and I can compare figures where we score such as by being able to have a higher stocking rate per hectare," said Geoff.

"We can run three cows to the hectare while others taking part in the survey can only run 1.5 cows. It's not about how much money you earn but how much money you can hang on to!"

The herd has been always been NMR recorded and currently averages just under 7,000 litres at 4 per cent butterfat and 3.3 per cent protein with 138 milking currently which includes a large batch of heifers.

Records for 2008 included 22 first calf heifers and 38 cows with five and more lactations, the oldest of which had nine. Milk is sold to Arla and Geoff is chairman of the Chelford producer group.

The Royles farm a total of 217 acres which is tenanted from the National Trust. Between 40 and 45 acres of spring barley and winter oats are grown mainly for on-farm use and the rest of the ground is grass, 70 acres of which close to the river floods.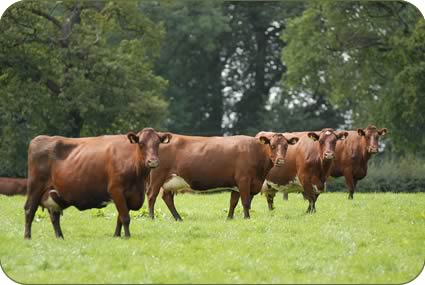 Some of the milking herd
They manage the farm without any extra help except for hedge cutting. Last year the contractor's bill was £175. Sue is heavily involved, doing the books, washing out the parlour and tractor driving.

"My policy in selecting bulls previously was to look for those whose dams had produced at least 50 tonnes of milk at 4per cent butterfat and 3.3 protein. Now I'll be looking for those which have produced 75 tonnes," said Geoff.

"We've changed our feeding regime slightly but we still only feed 1.85 tonnes of concentrate a cow per lactation. We have a simple feeding system of concentrate fed in the parlour and big bale silage at up to 60 per cent dry matter fed in hoppers."

A recent classification of the herd by the Shorthorn Society resulted in one at 95pt, one at 93 and four at 92 and 12 EX and 20 VG.

The herd's highest yielding maiden heifer, Dunham Duchess Ann 38, nicknamed Superheifer, gave 10,000 litres in her first lactation and well over that figure in her fifth and sixth lactations. A number of cows in the herd are yielding 10,000 litres.

The herd's fertility is high with most producing a calf a year to achieve a calving index of between 380 and 390.

Cell counts run at 130 to 140 with Bactoscans at between 25 and 40 ensuring a consistent top band payment for milk hygiene.

"We aim to produce at least 50 tonnes of milk from each cow in her lifetime which is usually after seven or eight calves.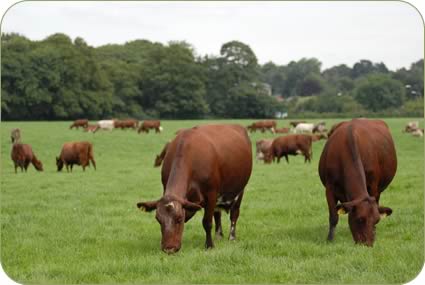 Enjoying the lush grass
The herd has been closed for 30 years with only stock bulls being bought in. The cows are served with the Dairy Shorthorn bull while maiden heifers are put to the Aberdeen Angus, calving from 26 to 30 months old.

Current stock bulls are the 2003-born Dunham Nobility, a 100 per cent Shorthorn, by Hooton Fair Achievement and out of Dunham Duchess Ann 38 which gave 10, 329 litres as a heifer; three year old Nejay Prince 3 by Glanhirwen Peerless, whose dam Nejay Princess gave more than 11,000 litres in her fourth and fifth lactations; and this year's calf which is being retained, Dunham Monarch by Dunham Nobility out of Dunham Duchess Ann 44.

All the females are served naturally, being brought inside when they show signs of bulling. The herd has a high conception rate with 78 per cent holding to first service.

"Our vet's bills are probably lower than average as we don't have any calving problems. I think we have had the vet to two calvings over 30 years and we don't have a calving aid.

"We have never had a displaced abomasum in 40 years. We don't have a foot policy – if we have a lame cow we treat it but we don't have any routine foot trimming. Most cows go through their lifetime without having a foot lifted off the floor.

"We always make a profit. If we used a TMR diet we could increase yields but the set-up we have at the farm doesn't suit it. We have high yielding cows so the potential is there but progress is much slower using natural service.

"By keeping above 75 per cent pure Shorthorn we believe we have introduced some hybrid vigour while retaining true Shorthorn type, producing cows which are easy calving with good feet.

"They are a herd of cows which wear well and are economic to maintain and still have the ability to produce a reasonable yield on a simple system. The Shorthorns are hassle free.

All Shorthorn female calves are reared and surplus animals are sold as newly calved heifers or young fresh calved cows mostly at the Shorthorn Society pedigree sales in June and November at Chelford where between 20 and 30 are sold each year.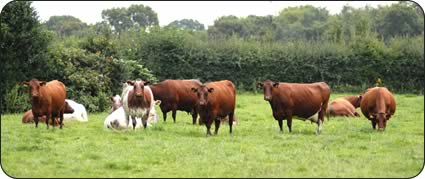 In calf cows
The herd calves all year round but with a concentration to coincide with sale dates in June and November.

The majority of the females are sold into black and white herds, many of which are repeat buyers.

"In the 1970s we had the only Dairy Shorthorn herd in Cheshire but now a number of producers who previously had black and white herds now have Shorthorns. They have done it for a reason and they have stuck with it," said Geoff.

Generally, bulls are not sold for breeding, however, selected bulls are reared on request.

The pure Shorthorn bull Dunham Discovery by Hooton Fair Achievement went to Red Cattle Genetics, the Shorthorn Society's breeding company, and was sold as a mature bull to Northern Ireland.

Aberdeen Angus cross bull calves are sold direct from farm into a local Angus beef scheme the females going to Northumberland as upland suckler cows.

The Dairy Shorthorn Society annual autumn show and sale is being held at Chelford Agricultural Centre, Chelford, Macclesfield, on Monday November 2.

www.frmauctions.co.uk