Jennifer MacKenzie is an agricultural photo journalist with almost 30 year's experience. Operating from her base in Cumbria, Jennifer undertakes mainly industry-related freelance writing and photography.
Black and White Passion
A passion for pedigree black and white cattle breeding is in the blood for Lee Graham.

Lee is the fourth generation of his family to farm at Anguswell, Kirklinton, near Carlisle, and it was his great grandfather who was one of the first to break with the area's traditional livestock when he brought pedigree Friesians when he came to the farm in 1947.

Lee, 28, who is marrying his fiancée Dawn Cathers in July 2009, farms with his parents Peter and Gill and brother Greg, 20, and is able to discuss the pedigree Holstein Heathersgill herd's breeding plans with his brother Richard, 30, who is a herd mating evaluator for World Wide Sires and is based in Northern Ireland.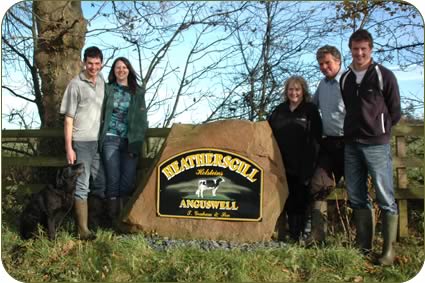 The Anguswell team, left to right, Lee Graham and fiancee Dawn Cathers, Gill, Peter and Greg Graham.
From a very early age all the brothers were involved with Holstein Young Breeders encouraged by their grandfather, the late Gordon Graham, who was secretary of the Border Holstein Friesian Club.

They all became members and were regular winners at competitions. A scholarship took Lee to Canada and the highlight of his HYB membership was when he took part in a four-day evaluation of young breeders from across Europe in Brussels in 2005 – and he won the competition!

"I got a lot out of Holstein Young Breeders," said Lee. "I learned a lot and got experience as well as making many good friends."

Lee has put his experiences into practice at Anguswell where the family milks 150 cows on 200 acres plus a further 20 rented acres.

After losing the herd in 2001's foot and mouth epidemic, there was no question about continuing in dairying and the Grahams bought the Cerwyn herd from Dennis Lewis in Pembrokeshire and cows from Edward Williams Shawbrae herd in Ecclefechan, establishing a herd of 80 cows.
The cows they found to replace their original 100 milkers had deep pedigrees and good family lines.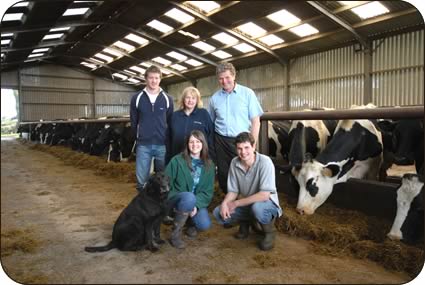 Left to right, back, Greg, Gillian and Peter Graham, with, front, Labrador Max, Dawn Cathers and Lee Graham with the milk cows at Anguswell
Today the herd averages 10,200 litres a cow and has 43 classified EX and 86 VG with the aim of selecting high type bulls with strong cow families behind them. The emphasis is on both yield and type in particular providing longevity ideally with a minimum of six lactations.

The oldest cow in the herd, Whitebarn Drew Asherlin EX 94, is carrying her 14th calf and has produced one EX daughter, two VGs and an EX granddaughter.

The aim is to breed for good feet, legs and udders and a wide, open dairy frame. "If you breed the right type of cow, as long as you feed it right, the milk will be there," said Lee.

The Asherlin line has done well for the herd as have the Bubble and the Gail families, the latter having nine generations of VG or EX.

With the exception of one young home-bred bull which has been retained for breeding, the herd is mated by DIY AI.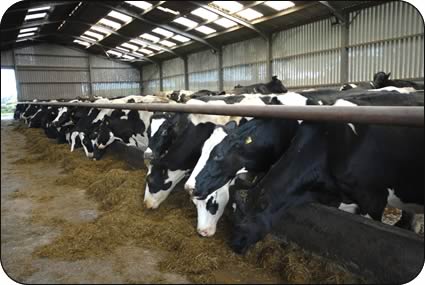 The Heathersgill herd milkers at Anguswell
One of the sires which has left its mark on the herd has been Talent with currently eight heifer daughters milking in the herd, six of which are VG and two are 84pts.

Talent daughter Heathersgill Talent Gail VG87 was in the winning group of three Holsteins at the Cumberland Show in 2008 with Heathersgill Champion Liza VG86 two year old and Heathersgill Goldwyn Primrose VG88, all freshly calved heifers.

They also had the dry cow champion at the Cumberland with Heathersgill Gibson Darling VG88.

Primrose and Gail were third in the pairs at the Northern Expo Holstein Show in October at Borderway, Carlisle, with Primrose placed second in the senior heifer in milk class and Gail third.
Primrose was best heifer in the Border and Lakeland Holstein Club annual herds competition this year and the previous year's winner was Heathersgill Allen Liza VG89 and second place went to Heathersgill Freeman Dilly VG88.

Heathersgill has also been in the top three small-medium sized herds in the competition for the last five years.

Virtually all replacements are now home-bred – a recent purchase was a Darlene heifer from the Steeles, Kepculloch - and freshly calved heifers are sold at the Border and Lakeland club sales in Carlisle. Two or three bulls are also sold each year. One has been retained this year sired by Goldwyn out of Heathersgill Lheros Squaw which has been running with some heifers.

The herd calves all the year round and because of expansion to current numbers, a lot of heifers have been brought in, however the replacement rate is low at 18 per cent.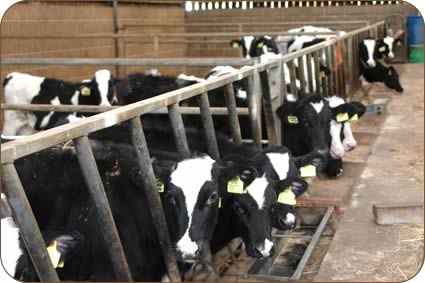 Heifer calves at Anguswell
The cows are fed for 30kg in the trough and topped up to yield in the parlour. At the last recording the average daily yield was 36.9 kg and the top yield was 79.8kg.

The farm is all grass with silage forming the basis of the winter diet, with straw, distillers grains, molasses, a custom mix blend comprising wheat, beet pulp, soya, dark distillers grains, as well as rape meal and protected fat minerals.

Youngstock are housed in straw pens until a year old when they are housed in cubicles. Heifers are calved at 27 to 28 months old as they are run as one group with the cows.