Jennifer MacKenzie is an agricultural photo journalist with almost 30 year's experience. Operating from her base in Cumbria, Jennifer undertakes mainly industry-related freelance writing and photography.
Environment Enhancement
Specialist beef producers Brian Atkinson and his father Brendan have been able to enhance their farm's environmental benefits while maintaining a sound commercial enterprise in shape for post 2012 without a Single Farm Payment.
The Atkinsons farm 600 acres at Scratchmere Scar and Scar Foot, near Plumpton, Penrith.
And with the help of investment from the NWDA funded Farming Connect Cumbria Programme they have been able to achieve greater management efficiencies in their spring calving suckler herd as well as in land management to improve the environment.
The farm is now in both Entry Level and Higher Level Stewardship because the farm lends itself well to it and there is little conflict in managing the beef enterprise in harmony with the environment.
There are 60 acres of wetland, a typical lowland heath which lies at 750ft above sea level, on Lazonby fell which has been a SSSI for the last 20 years.
Under the HLS it is being managed differently birch trees have been felled and it is now being grazed with 40 Herdwick hoggs to maintain a diverse vegetation which includes heather and bilberries as well as supporting a number of varieties of birds.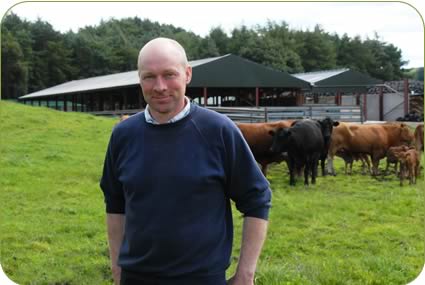 Brian Atkinson with the extended cattle housing
Brian Atkinson said: "We're happy to have made the farm 'greener' and not to be farming so intensively, although it still has to be justifiable in terms of profitability.
"We have also repaired 300 metres of stone wall and we are growing two plots of kale and quinoa among our cereals as well as 35 acres of over-wintered stubbles for wild birds.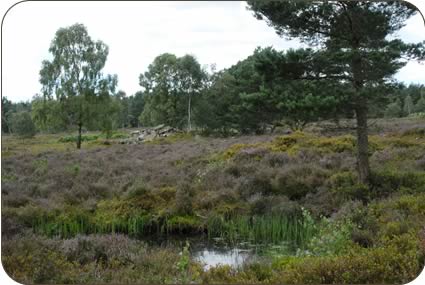 The 60 acres of wetland, a typical lowland heath which lies at 750ft above
sea level, on Lazonby fell.
The Atkinsons have completely altered their beef system. They are now running 12 Stabiliser bulls, a composite of two British and two continental breeds, across the whole herd which we decided to change to because of the cattle's high feed conversion rate, ease of calving and fertility.
"With the help of our nutritionist and vet we are looking ahead to farming without subsidies and getting the maximum production off the farm, with each cow producing and rearing a calf a year," said Brian.
Rations are costed at price per day and cattle are weighed to assess growth performance.
"We now have our first cross calves which we are very pleased with – eventually the whole herd will be Stabiliser dams. As part of our entry into the HLS, we have reduced herd numbers from 400 to 320 cows.
Through Farming Connect Cumbria they have received advice from CREA Farm Link business adviser John Pedley which helped us put together a successful application for 40 per cent grant aided capital investments in two cattle buildings.
The first was a 90ft by 40ft slatted building for youngstock which freed up other housing for the spring calving cows.
The second project was a single span addition to an existing building measuring 35ft by 180ft which is bedded with sawdust.
This has enabled the housing 60 calving cows which were previously outwintered on a seven acre sacrifice area next to the building and it has helped with cattle management.
It has reduced stocking density and the risk of respiratory diseases, improving cattle comfort and minimising the need to off-winter stock, improving biosecurity.
By housing the calving cows they can be fed cheaper and it prevents poaching of the land and run off onto the neighbouring wetland area. Without the grant aid it is doubtful whether the investment would have been made.
"We don't know what will happen once the Single Farm Payment is eroded. The improved buildings which improves our cattle management puts us in a better position than we were before.
"Since we introduced the Stabiliser all the herd is spring-calving – we used to have 100 autumn calvers – and by breeding our own replacements that helps us to be more self-sufficient."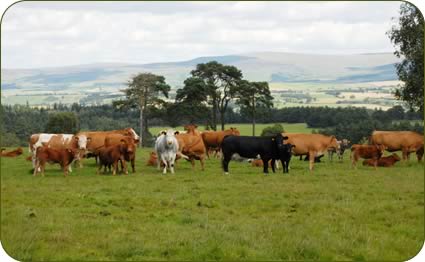 Cows with their Stabiliser calves
The first Stabiliser calves were born in the spring of 2007 after the Atkinsons joined the North West Stabiliser Project, set up in August 2005 to establish 15 nucleus Stabiliser herds in the north west.
The herd was switched to a high fibre total mixed ration using around 25 per cent less grass silage which has further impacted on fertility and ease of calving.
A three-stage system of rearing, growing and finishing the cattle has been established with suckler cow nutrition being a particular target.
Now all calves are finished on the farm at steers at 18 months old averaging 360 kg, and heifers finishing at 16 to 18 months old weighing 300-325kg deadweight.
The Atkinsons have created a two and a half mile long circular permissive footpath for walkers and climbers who use the Scar which is on neighbouring land.
With advice from Ian Wrigley of FWAG, as part of the three year HLS plan, they are re-creating two half acre ponds which are currently wet areas and hope to create a third, and the path will take in the ponds.
Farming Connect Cumbria grant aided the extra work done by FWAG to get the ponds properly planned out. A car park is also being made for the climbers who use the Scar.