Jennifer MacKenzie is an agricultural photo journalist with almost 30 year's experience. Operating from her base in Cumbria, Jennifer undertakes mainly industry-related freelance writing and photography.
Farmer turns to Sculpture
Down a farm lane off a by-way in north Cumbria is one farmer's diversification vision come true.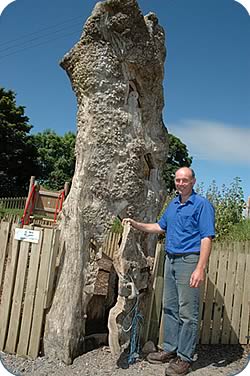 Jonathan Stamper
High Head Sculpture Valley, a tranquil area of life-size sculptures, also has art gallery and farm house tea room - all tucked away on the banks of the River Ive on a working dairy farm near Carlisle.
Farmer turned sculptor and landscape gardener Jonathan Stamper and his wife Bernadette opened their unique tourist attraction in June 2004 – and in their first season doubled their expectations of both visitor numbers and the business turnover.
A keen sculptor in wood and various media including metal and resin, Jonathan then was led into landscape gardening, into which he diversified after a course at Newton Rigg College, near Penrith.
The diversification project is a family affair, precipitated by the foot and mouth crisis in 2001.
"Bernadette was working away from the farm at the tourist information centre and our son Daniel, who is now 26, wanted to farm but knew there wasn't the scope to do it on our 164 acres at High Head Farm, Ivegill," said Jonathan.
"We thought if we could pool our skills and get people to come to the farm that might be the solution.
"Daniel has always wanted to milk cows since ht left school and after six months in New Zealand he came home wanting to adopt their low input system. Previously, we had a mixed farm with 70 milk cows some sheep and beef cattle, now we have 140 dairy cows."
Daniel now runs the dairy herd with inputs from Jonathan as well as contractors' labour when needed.
Jonathan and Bernadette concentrate on the gallery and tea room in converted cubicle housing along with the five-acre sculpture valley and walk for visitors and Jonathan is enthusiastically assisted in the landscape gardening enterprise by son Simon, aged 19.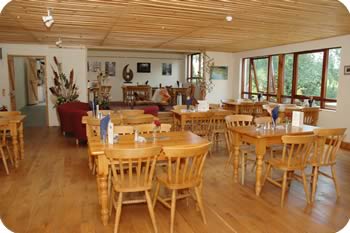 High Head Sculpture Valley Tearoom
The Stampers' daughter Eleanor, 24, is a nurse but helps out at weekends alongside the staff of five who mainly work in the tea room.
It was seven years ago that Jonathan's sculpting hobby started to become a major part of his income and that led to the landscaping element as much of his work is intended for gardens.
The sculpture valley, which includes Jonathan's work alongside that of other sculptors, is intended to bring art to the public, and especially to children.
Jonathan has a hatred of stuffy galleries and it gives him great pleasure to see children – as well as adults - in the valley hunting for the various sculptures.
The valley area, once a mill pond, which also incorporates a Countryside Stewardship walk to the farm's boundary and recently planted woodland, attracts a host of wildlife including otters, kingfishers, heron, dippers, red squirrel, goosander and moorhen as well as wild flowers.
"We wanted to create somewhere people feel comfortable around art. It's surprising how much people get switched on to it when they see art work around them," said Jonathan.
Many people come to High Head to spend the day, having a coffee before a walking tour of the sculpture valley, perhaps returning to the tea room for lunch.
Art on display in the gallery and tea room is changed every eight weeks to add extra interest for visitors.
"Since we opened we have been consistently busy," said Bernadette. "I'm just bowled over by how good it has been," she added.
"During our first year we nearly doubled the number of visitors on the 6,000 we had anticipated and almost doubled our turnover from a projected £67,000 to almost £120,000," said Jonathan.
"We hadn't expected to be taking our own salaries out of the business until the third year but this has not been the case. We have also had to take on more part time staff."
Art from the gallery which is sold on a commission basis has been selling well. It is proving so popular with artists who praise the lighting that the gallery wall space is now fully booked until 2007
"I think what has helped us has been not being too ambitious and then you can be pleasantly surprised, as we have been," said Bernadette.
While the project has received grant aid, the Stampers have managed to cut costs by doing a lot of the building work themselves.
And a key factor of the success Jonathan puts down to good marketing of the business which has been through Cumbrian PR consultant Alan Air. This has resulted in widespread publicity in both local and national media.
Among visitors to High Head are farmers and their families who have been quick to praise the venture, however, Jonathan believes that in the past they might have been more sceptical.
"Ten years ago we would have been laughed at if we said we wanted to take land out of commercial production but farmers are realising that they can't continue to farm the way they have, even in these prime grass growing areas," said Jonathan.
All the food for the tea room, which seats 55, is cooked on the premises by Bernadette and her team of three part-time workers who are local farmers' wives. Two waitresses are employed at weekends.
The converted buildings also include a workshop where Jonathan can be seen at work. A second workshop which is currently occupied by a local art student, is intended to be used for further education courses in the future.
The low-input dairy herd mostly comprises MRI cross Friesian cows which are block calved in the spring and summer and some are housed away from the farm for two months during the winter when they are dry.
The cows are not housed until the end of November with the away-wintered females being housed from December.
Calving began in mid-February and cows are turned out to grass from the beginning of March when they are grazed on a rotational basis on one-day paddocks.
Advantages of the MRI for the system is that the cows are easily calved and to get back in calf and they also have high milk protein content, currently running at 3.5 per cent off grass. The herd is milked two times a day and is yielding 5,000kg off 200kg of concentrate.
The Stampers decided Holsteins were not suitable to the new system and now some of the cows are being served with the Jersey to further improve hybrid vigour and further increase milk solids.
The calf rearing system is also simple with calves being fed milk and colostrum before being turned out at three weeks old and weaned at about seven weeks old – some have never been inside at all.
Calves have little or no scour or pneumonia problems and males are sold as calves with females kept as herd replacements.